UT administrator receives highest honor from national respiratory care association
---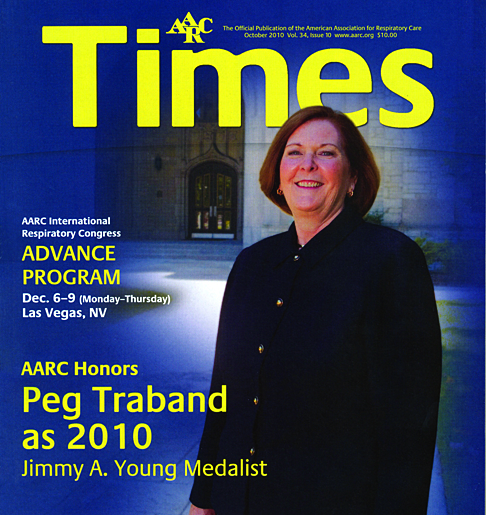 Margaret "Peg" Traband still refers to herself as a respiration therapist. It might have been years since she's worked in a hospital and has gone on to enjoy a successful career in higher education, but she doesn't forget the joy of helping someone breathe easier.
"To this day, if someone were to meet me somewhere, I work into the conversation that I am a respiration therapist. It's part of my identity. It's part of who I am," Traband said.
Traband, now The University of Toledo's vice provost and interim executive director for the UT Learning Collaborative, has received the highest honor in her respiration therapy field — the Jimmy A. Young Medal from the American Association for Respiratory Care.
She is featured on the cover of the October issue of the association's Times magazine and will officially receive the award at the opening ceremony of the organization's national conference Dec. 6 in Las Vegas.
"I'm really surprised and quite humbled," Traband said. "Throughout my career and working with these organizations, I have got to know so many of the giants in the field that it's hard to believe I'm being recognized among them. I used Jimmy Young's textbook when I was first starting out."
Traband is quick to recognize that she's not the only one at the University who deserves credit for success in respiration therapy. A number of University alumni and professors and staff have been prominent in not only the American Association for Respiratory Care, but also the National Board for Respiratory Care. Traband has served as president of both organizations.
"Peg is an incredibly modest person, but this award is incredibly deserved," said Dr. Craig Black, associate professor and director of the UT Respiratory Care Program.
Traband taught Black when he went through the Respiratory Care Program part time while a full-time biology faculty member at UT. He said she is very knowledgeable about the craft and got others excited about it.
"She is passionate about lung health and people's health. Despite being involved in education for the greater part of her career, she's still passionate about patients and always will be," Black said. "She has been so involved in this field for so long, she is someone who people call when they need words of wisdom."
Traband began her career as a respiratory therapist working the night shift at Toledo Hospital in 1972 and became a clinical instructor in 1973. She went on to teach the craft at the former UT Community and Technical College and has been teaching ever since.
A longtime professor in the University's Respiratory Care Program, she served as its director from 1987 to 2003. Traband also was an associate dean and interim dean in the College of Health Science and Human Service.
She continues to be involved in the field and is participating in a national "Drive 4 COPD" campaign to provide lung screenings to help people identify symptoms of Chronic Obstructive Pulmonary Disease and take action.
"When you are working with someone who has a hard time breathing and you make it a little easier, you can't help but feel good. You see it right there, instantly, that you helped them," Traband said. "When someone cannot breathe, literally nothing else matters at that time. It's rewarding to help relieve that anxiety and get them on a better track."
In the article featured in Times magazine, Traband thanks a number of mentors who helped her on her path to succeed in what was quite a new career field when she got started. She now is glad to be on the other side and to have taught and mentored so many successful respiration therapists.
On a national level, Traband was instrumental in improving communication with what now is affectionately known as the 3-P meeting, getting the past president, present and president-elect of the American Association for Respiratory Care together to share knowledge and ensure continuity.
She also initiated the association's "2015 and Beyond" project, which is a series of conferences to determine the knowledge, skills and attributes that future respiratory therapists will need.
Last year, Traband received the Robert H. Miller Award from the National Board for Respiratory Care for her outstanding service to the profession and credentialing system. That same year, the board recognized Dr. Robert May, medical director of the University's Respiratory Care Program, with the Albert H. Andrews Jr. Award for outstanding service to the respiratory care community.
Traband said she learned many of the skills needed to be a successful administrator from her work in respiratory care, such as being a good listener, patience, and looking at the whole picture to find the best solution to a problem.
But no matter where her career takes her, Traband will always be a respiration therapist.