Learn about UT College of Nursing programs Oct. 28
---
The University of Toledo College of Nursing will hold an information session Tuesday, Oct. 28, at 5 p.m. in the Collier Building Lobby on Health Science Campus.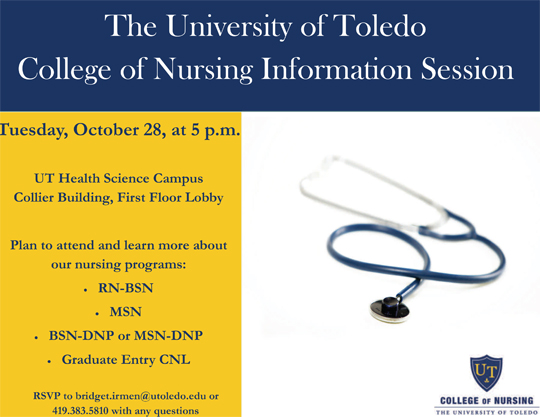 Prospective students and registered nurses are invited to stop by to meet with UT nursing representatives to learn more about the registered nurse to bachelor of science in nursing degree as well as master of science in nursing degrees with majors in advanced practice, education or clinical nurse leader.
UT also offers a post-baccalaureate to doctor of nursing practice program with majors in family nurse practitioner and pediatric nurse practitioner.
Graduate certificates are offered for RNs with master of science in nursing degrees. A person with a bachelor's degree who is not a nurse and wants to become an RN is invited to explore the master of science in nursing graduate entry clinical nurse leader program.
Those planning to attend the free, public event are asked to RSVP to bridget.irmen@utoledo.edu.
For more information, call the UT College of Nursing at 419.383.5810 and go to utoledo.edu/nursing.
Click to access the login or register cheese