Satellites to hold Flash Sale this week
---
The Satellites Auxiliary's Flash Sale will take place Wednesday through Friday, Oct. 26-28, in UT Medical Center's Four Seasons Bistro Atrium.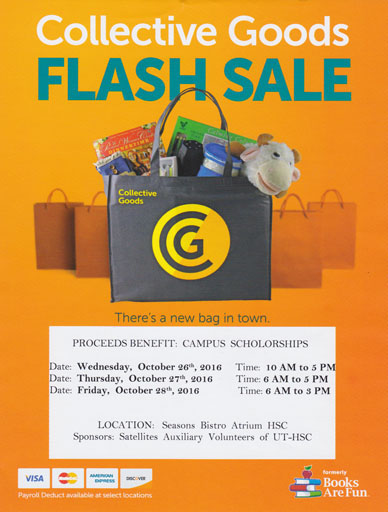 Items from Collective Goods will be featured at the sale. Brands will include Marvel, Lego, Sharper Image, Nickelodeon, Gund and more.
The sale will run from 10 a.m. to 5 p.m. Wednesday, from 6 a.m. to 5 p.m. Thursday, and from 6 a.m. to 3 p.m. Friday.
Cash, check, credit cards and payroll deduction will be accepted.
A portion of the proceeds will benefit scholarships.
The Satellites Auxiliary is a volunteer group designed to promote education, research and service programs; provide support of patient programs in accordance with the needs and approval of administration; conduct fundraising events; and provide services.
For more information on the sale, contact Lynn Brand, president of the Satellites, at lynn.brand@utoledo.edu.