Possession topic of Oct. 30 disability studies lecture
---
Dr. James L. Cherney will discuss "Ableism and the Possessed Body" Monday, Oct. 30, at 4 p.m. in Carlson Library Room 1005.
His free, public lecture is co-sponsored by the Disability Studies Program and the Department of Communication.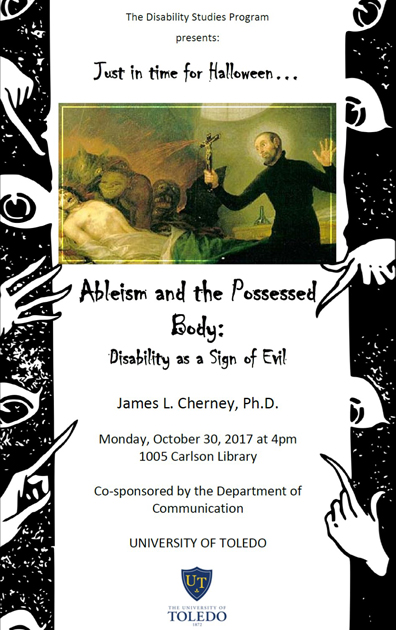 "Western culture has long had a strong ableist tradition of using physical disabilities to signify an inner evil or unseen malicious presence," Cherney, assistant professor of communication at Wayne State University, said. "From Richard III to Captain Hook, characters have been given disabilities in order to reveal their cruelty."
He will talk about the most explicit of these stories: narratives of possession.
"In these narratives of possession, disabled bodies, deviant behaviors and unconventional mentalities are read or viewed as evidence of the demonic possession itself," Cherney said. "This coding of disability appears in Cotton Mather's 'Memorable Providences' in 1689 and continues in contemporary stories like William Peter Blatty's 'The Exorcist' in 1971.
"In exploring this theme, I hope to help us understand why ableism remains so powerful in our culture, and critiquing it becomes a way to challenge ableist thinking and bigotry."
For more information on the lecture, contact the Disability Studies Program at 419.530.7244.