Death, dying to be explored in workshop Oct. 29
---
A Cultural and Ethical Death & Dying Workshop will take place Wednesday, Oct. 29, at noon in Health Education Building Room 100 on The University of Toledo's Health Science Campus.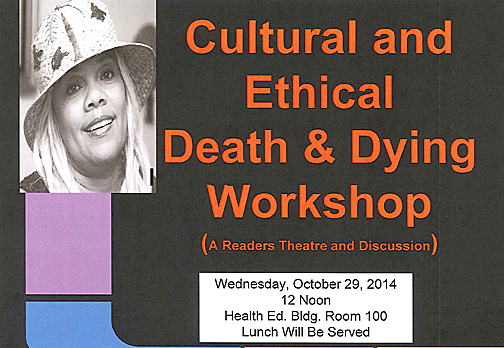 The workshop will feature Dr. Imelda Hunt, artistic director and founder of New Works Writers Series, and the New Works Writers Series actors.
The performance will focus on understanding cultural and ethical considerations when managing patients and family through various stages of death and dying.
The New Works Writers Series is a nonprofit community theatre organization specializing in stage performances, poetry readings and collaborations. The organization has performed at Bowling Green State University, the Toledo Museum of Art, the Charles H. Wright Museum of African American History in Detroit and a number of other community institutions.
Hunt has worked as a teacher and principal in the Toledo area for more than 25 years and has received a number of community awards and honors, including a National Endowment for the Humanities Fellowship in 2009 and UT Upward Bound Summer Program Best Teacher of 2010.
This event is part of a Language of Diversity Series hosted by UT's College of Medicine and Live Sciences and the Office of Faculty and Student Diversity.