'Defining and Defending Our Waters' topic of conference
---
Are we protecting our water resources, or are we engaging in regulatory overreach, threatening shipping, and stifling an energy boom? How do we prevent a recurrence of the crisis that deprived half a million Toledo-area residents and visitors of drinking water in August?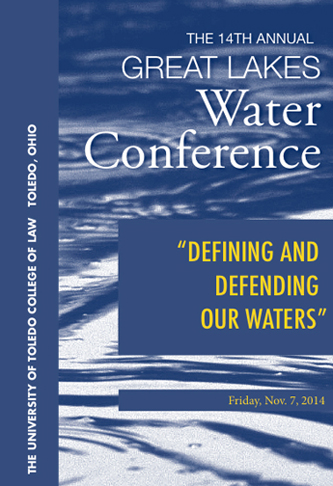 These questions will be among those addressed by panels of legal and scientific experts at the 14th annual Great Lakes Water Conference Friday, Nov. 7, in the Law Center.
The conference titled "Defining and Defending Our Waters" is sponsored by the UT College of Law and its affiliated Legal Institute of the Great Lakes.
Panel topics during the conference will be "Defining the Reach of the Clean Water Act," "Open Lake Disposal of Harbor Sediments," "Fracking Bans and State Pre-emption," and "Algae and the Toledo Water Crisis."
Gail Hesse, executive director of the Ohio Lake Erie Commission, will be the keynote speaker.
"The annual Great Lakes Water Conferences consistently tackle topics at the cutting edge of law and policy," said Kenneth Kilbert, director of the Legal Institute of the Great Lakes and associate dean for academic affairs. "Last year's conference focused attention on harmful algal blooms before the crisis in Toledo this summer, and this year the topics are just as critical and timely."
The conference is free to the public. Registration is $75 for Ohio attorneys seeking 5.5 hours of continuing legal education.
For more information and to register, click here.