UT Opera to return with Menotti's 'The Medium'
---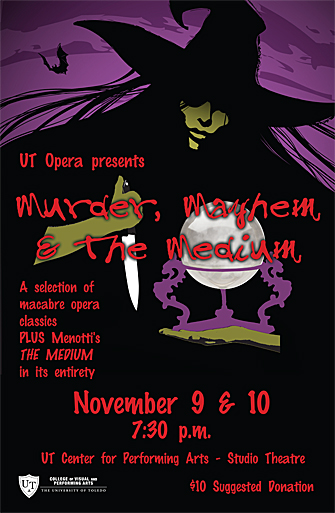 After nearly 20 years, UT will perform its first full opera, Gian Carlo Menotti's "The Medium," Friday and Saturday, Nov. 9 and 10, at 7:30 p.m. in the Center for Performing Arts Studio Theatre.
The performance called "Murder, Mayhem and The Medium" will open with several macabre opera classics, followed by a brief intermission and then "The Medium" in its entirety. The whole performance will last about 90 minutes.
Dr. Denise Ritter Bernardini, assistant professor of voice and director of the UT Opera program, said the production is a collaborative effort between the departments of Music and Theatre and Film.
Cornel Gabara, associate professor of theatre, will direct the performance. Gabara also is directing the Toledo Symphony Orchestra production of "The Soldier's Tale," and directed the symphony's 2011 Carnegie Hall production of "Every Good Boy Deserves Favour."
Bernardini said she is thrilled that the production is taking place. "In more recent years, the UT Opera ensemble has performed only selections from operas. Since we announced that we were doing a full opera, enrollment in UT Opera has tripled."
She added that much thought went into the decision to perform "The Medium": "I wanted something that was very accessible to the audience, something fun that even people who are new to opera would enjoy, and something that would showcase the talents of our graduate students."
"The Medium" is the story of a crafty and often cruel clairvoyant who finds herself questioning her line of work when one of her séances goes awry and a mysterious experience leads her from suspicion to paranoia and, ultimately, to tragedy.
There is no charge for admission to these performances; a $10 donation per ticket is requested but not required. Tickets are available at the door, but since seating is limited, it is suggested that they be reserved in advance by calling the UT Department of Music at 419.530.2448. Doors will open at 7 p.m. each night.
The UT Opera will present its inaugural Holiday Opera Gala Sunday, Dec. 16, at 7:30 p.m. in Doermann Theater in University Hall.