Works by area high school art teachers to be in spotlight
---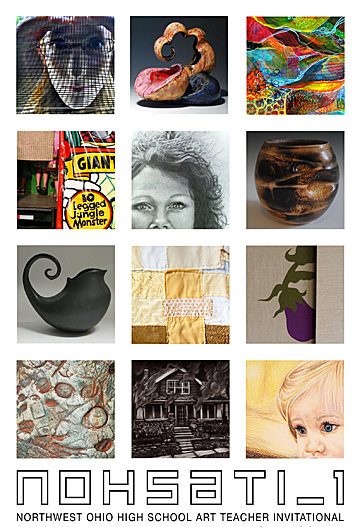 The Northwest Ohio High School Art Teachers Invitational Exhibition will open with a reception Friday, Nov. 15, at 6 p.m. in the Center for the Visual Arts Gallery on the UT Toledo Museum of Art Campus.
Creations by art teachers from 12 area high schools will be showcased in the exhibit. The show will include drawings, paintings, ceramics, photography, bookmaking and more.
Teachers and schools represented in the exhibition are:
• Wendy Murphy, Anthony Wayne High School;
• Brent Douge, Bedford High School;
• Lauren Smith, Eastwood High School;
• Katie Delay, Four County Career Center;
• Eric Robertson, Pike-Delta-York High School;
• Kristin Kowalski, Maumee Valley Country Day School;
• Kristin Johnson and Steve Wipfli, Ottawa Hills High School;
• Ann TenEyck, Rogers High School;
• Ellen Loeffler-Kalinoski and Rachel Ellis, St. Ursula Academy;
• Melinda Wagner Arrigo, Sylvania Southview High School;
• Patty Kehoe, Waite High School; and
• Matt Squib, Charley Drake and Lorna Lefevre Johnson, Whitmer High School.
The free, public exhibit will be on display through Saturday, Dec. 14.
Gallery hours are Monday through Saturday from 9 a.m. to 9 p.m., and Sunday from 10 a.m. to 9 p.m.
For more information, visit the UT Department of Art at utoledo.edu/cvpa/art.