Professional Staff Council to host Holiday Bazaar Nov. 17
---
The Professional Staff Council will host a Holiday Bazaar Friday, Nov. 17, from 10 a.m. to 5 p.m. in UT Medical Center's Four Seasons Bistro Atrium.
Vendors from the local community will sell makeup, housewares, arts and crafts, and holiday goodies. Confirmed vendors include Pampered Chef, Mary Kay, Scentsy and many more.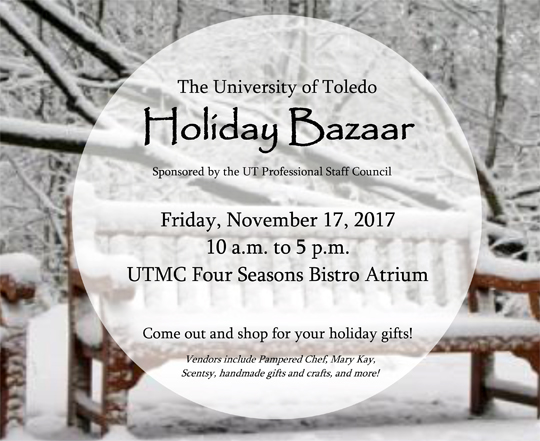 "This is the first year the holiday bazaar is returning," said Jennifer Pizio, associate director for the Office of Diversity and Professional Staff Council fundraising committee co-chair. "A holiday bazaar used to be held, but has not happened in many years. We are excited to bring it back."
In addition to shopping for the holidays, attendees will have the opportunity to learn more about the Professional Staff Council and participate in a basket raffle.
For more information, contact Pizio at jennifer.pizio@utoledo.edu.