UT Marching Band to perform concert Nov. 21
---
The UT Rocket Marching Band will present "Sounds of the Stadium!" Saturday, Nov. 21, at 8 p.m. at the Valentine Theatre, 410 Adams St. in downtown Toledo.
Hear the band's songs from this football season; these will include selections by Bruno Mars and "Back to the Future," as well as traditional UT favorites.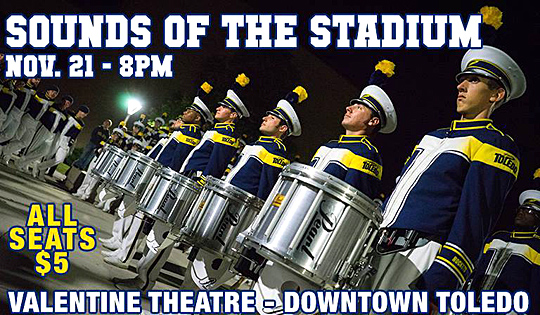 Appearances by the UT Color Guard, Dancing Rockettes and twirlers also will be featured.
General admission is $5 and tickets can be purchased through the UT Center for Performing Arts Box Office or the Valentine Theatre Box Office.
Discounts are available for groups of 10 or more and 20 and more.
For more information, visit The University of Toledo Rocket Marching Band Facebook page here or contact the UT Band Office at 419.530.2217.
Click to access the login or register cheese