Eastern Woodland Native American drum group to perform Nov. 28
---
The SouthEastern WaterSpider, an Eastern Woodland Native American drum group, will visit The University of Toledo Tuesday, Nov. 28.
The ensemble will perform a free, public concert at 6 p.m. in the Health Education Center Gymnasium on Main Campus.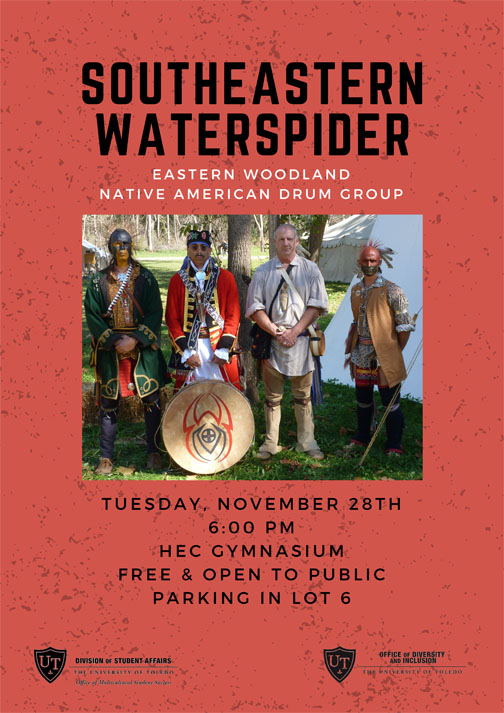 The group will play traditional Eastern Woodland songs that have been approved by their elders as being genuinely Eastern and indigenous.
"All too often, Native American Heritage Month celebrations go immediately to stereotypical Indians, who are from points East, with the Great Plains and the desert Southwestern cultures being usually highlighted," said Dr. Barbara Mann, professor of humanities in the Jesup Scott Honors College. "Spatial location is very important to Native Americans because songs, dances and ceremonies connect with geography, so that the medicine from a song made to honor the desert just confuses the spirits of a watery place like Ohio."
The event honors the people of the Eastern Woodlands and clears the misconception that all Native Americans moved west during the Indian Removal Act from 1832 to 1845.
"The event is a reminder that 'we are still here,'" Mann said. "It helps Americans remember who was here first."
For more information, contact the Office of Multicultural Student Success at 419.530.2261.