Women's basketball team to host inaugural Glass City Tournament this weekend
---
Toledo (4-1) will host the inaugural Glass City Tournament Saturday and Sunday, Dec. 1-2, in Savage Arena.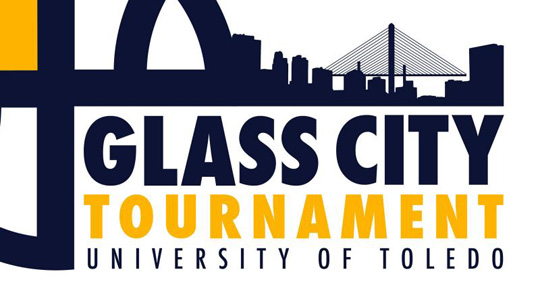 The Rockets will take on Southern Illinois University Edwardsville (3-3) Saturday, before battling either Southern (0-5) or St. Bonaventure (3-4) Sunday. Both of UT's contests this weekend will tip off at 2:30 p.m., while the other match-ups will start at noon. Toledo's game on Sunday will be carried live on BCSN.
Toledo will look to take advantage of some home cooking after spending the last two weeks on the road. The midnight blue and gold is 1-0 in the friendly confines of Savage Arena this season and an impressive 58-8 on its home floor under fifth-year Head Coach Tricia Cullop.
UT, which will put its season-high three-game win streak on the line, is coming off victories against Santa Clara, 73-48, and host Nevada, 73-61, at the John Ascuaga's Nugget Classic in Reno, Nev., last week to capture its sixth tournament crown in school history and third under Cullop.
The key to the Rockets' tourney title was its ability to convert field goals at a high rate, as the team outshot the Broncos and Wolf Pack, .424-.359. The Rockets also dominated the boards, outrebounding the opposition by an average of nine caroms, 43.0-34.0.
Senior Naama Shafir and junior Andola Dortch received all-classic team honors for their efforts in the two victories. Shafir, who also was selected the classic MVP, averaged 11.0 points, a team-high 6.0 assists and 2.5 steals, while Dortch tallied a squad-best 11.5 points, a team-best 3.0 thefts and 3.5 helpers per contest.
Through the first five games this season, Toledo's talented backcourt duo is averaging 19.4 points, 9.0 dimes and 5.2 steals per contest.
UT and Southern Illinois University Edwardsville will meet for a third time, with the Rockets claiming an 86-74 victory in 2009 in Edwardsville after posting an 80-58 triumph in 2009 in Savage Arena.
Following this weekend's tourney, Toledo will remain at home and host Horizon League member Milwaukee Saturday, Dec. 8. The opening tip against the Panthers will be at 2 p.m. in Savage Arena. The Rockets will look to avenge a 60-57 setback to the Panthers last year in the Klotsche Center.