Rocket named MAC Football Special Teams Player of the Year
---
Eight Rockets earned 10 All-Mid-American Conference selections, including three first-team nods, and junior wide receiver Diontae Johnson also was named the Special Teams Player of the Year.
For the second straight season, Johnson earned all-conference honors and did so at three different positions: wide receiver (first-team), punt returner (first-team) and kickoff returner (second-team).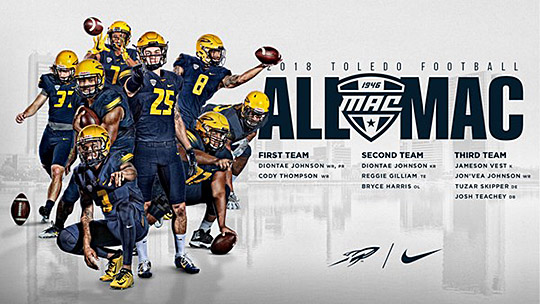 Senior wide receiver Cody Thompson also was named a first-team selection.
Joining the two receivers as All-MAC honorees were offensive lineman Bryce Harris (second team), tight end Reggie Gilliam (second team), wide receiver Jon'Vea Johnson (third team), kicker Jameson Vest (third team), defensive end Tuzar Skipper (third team) and safety Josh Teachey (third team).
Diontae Johnson has become arguably the most dangerous return man in the league. He leads the MAC with an average punt return of 18.3 yards, and he is second in kickoff return average at 25.8 yards per attempt. He is the only player in the conference to return a punt and kickoff for a touchdown this season. As a receiver, he is tied for the team lead with 43 receptions, leads UT with 663 receiving yards, and has seven touchdown catches.
For his career, Diontae Johnson has averaged 23.4 yards per kickoff return, which would put him third all-time in UT history, and he is just the second Rocket ever to have at least two punt return TDs and two kickoff return TDs (Lance Moore, 2001-2004). He is the fourth player in program history to be named the top special teams player in the MAC, joining Jeremiah Detmer (2013), Eric Page (2010) and Jason Robbins (2005).
Joining Diontae Johnson on the MAC's first team is Thompson, who also was a first-team selection in 2016, is tied for the team lead with 43 receptions totaling 592 yards, and leads the Rockets with 10 touchdown catches. He has spent this season climbing in the Toledo record book, where he ranks atop the career touchdown reception list with 30. Thompson is second all-time with 3,257 receiving yards and second in yards per reception (18.5). Off the field, he earned Academic All-District honors for the second straight season.
Harris was named a second-team recipient, his first All-MAC honor. The Rockets' starting center, Harris has helped pave the way for an offense that ranks second in the MAC in scoring (41.1), total offense (448.5) and rushing (223.6).
Gilliam joined Harris on the second team, and it is also the first all-conference honor of his career. Gilliam has been Toledo's starting tight end for much of the season and ranks third on the team with three touchdown receptions. He has been an absolute force on special teams, where he leads the country in blocked kicks (four).
Jon'Vea Johnson was one of four Rockets to earn third-team All-MAC distinctions. He ranks second on the team with 611 receiving yards and seven touchdowns, and third with 29 receptions. He leads Toledo in average yards per catch (21.1), a figure that ranks fifth in the country. This is his second All-MAC award; he was a second-team honoree in 2016.
Vest is an All-MAC recipient for the second straight season, landing on the third team. He leads the MAC in scoring (8.6 points per game) and has cemented himself in Toledo football lore, breaking the school records for career field goals made (71) and extra points made (227). He is 14 for 19 on field goals this season, including 4 of 5 from 40 yards or longer.
Skipper was one of two UT defensive players to be placed on the All-MAC squad. A first-time honoree, Skipper has tallied 52 tackles this season and leads Toledo with 8.5 sacks, which rank third in the MAC. His 10.5 tackles for loss rank second on the team, and he leads the Rockets with four QB hurries and two fumble recoveries.
Teachey rounds out Toledo's All-MAC selections with his first career all-conference accolade. He is fourth on the team with 54 tackles and is among the tops in the conference with 11 pass breakups. He leads the Rockets' defensive backs with four tackles for loss.