Gain more Rocket pride at utoledogear yard sale
---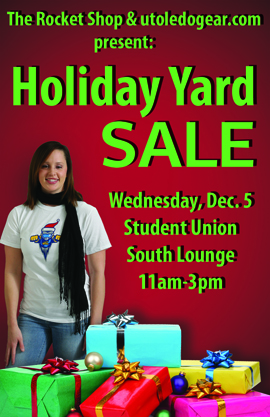 If you have T-shirts representing other universities, now is the perfect time to trade them in and gain some more Rocket pride.
At this year's utoledogear yard sale, attendees are encouraged to donate shirts from other universities in return for a free T-shirt supporting The University of Toledo. Donated T-shirts will be given to the Salvation Army to help those in need.
The yard sale will take place Wednesday, Dec. 5, from 11 a.m. to 3 p.m. in the Student Union South Lounge.
Representatives from utoledogear and the Rocket Shop, which is located in Savage Arena, will be at the sale with discounted merchandise available for purchase.
To look at merchandise, click here.
Those looking to buy at the yard sale may use cash or credit; Rocket Cards will not be accepted.
Click to access the login or register cheese