Soccer team ties for sixth nationally in team GPA
---
The UT women's soccer team recently was recognized for its achievements in the classroom by the National Soccer Coaches Association of America.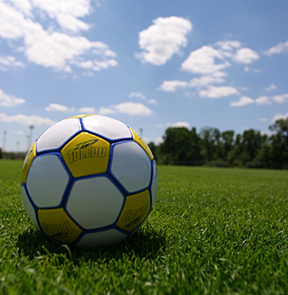 The Rockets received the association's 2012-13 Team Academic Award.
Toledo posted a 3.62 overall grade-point average during the 2012-13 academic year to tie for sixth among Division I programs, marking the eighth consecutive year the Rockets have posted a top-10 mark.
UT also finished third (3.63 GPA) nationally in 2005-06, tied for second (3.59 GPA) in 2006-07, 10th (3.46 GPA) in 2007-08, second (3.63 GPA) in 2008-09, tied for second (3.63 GPA) in 2009-10, tied for fifth (3.61 GPA) in 2010-11 and sixth (3.58 GPA) in 2011-12.
Toledo was one of two Mid-American Conference teams to rank among the top 10, along with No. 3 Eastern Michigan (3.64 GPA).
The three-time MAC regular-season and four-time tournament champions have posted team GPAs above 3.5 in 17 of the last 25 semesters under Head Coach Brad Evans.