Meet 'Star Wars' characters Jan. 7 at UT basketball game
---
Fans can meet and have their photos taken with Rey and Kylo Ren from "Star Wars" Saturday, Jan. 7, during the Toledo men's basketball team's contest vs. Miami at 4 p.m. in Savage Arena.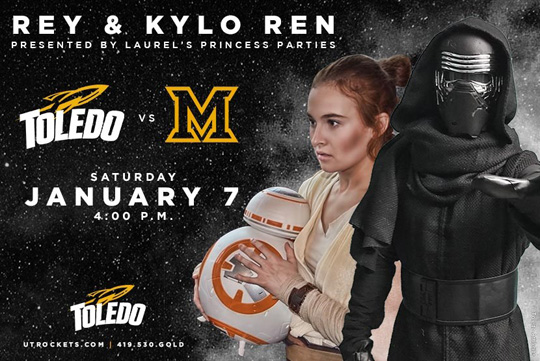 The contest will be the second game of a doubleheader with the Rocket women's team facing Miami at noon.
Rey and Kylo Ren will be on the main concourse during pregame and halftime of the men's game. The appearance will be presented by Laurel's Princess Parties in Toledo.
Tickets can be ordered online at utrockets.com, by calling 419.530.GOLD, or at the UT Ticket Office, which is open Monday through Friday from 8:30 a.m. to 5 p.m.
Click to access the login or register cheese