Princeton Review names UT College of Law among best law schools in U.S.
---
The Princeton Review once again selected The University of Toledo College of Law in its prestigious list of the top 165 law schools in the country.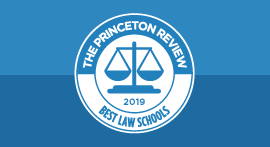 The UT College of Law ranked No. 1 for professor accessibility in Ohio and Michigan, and tied for No. 1 in Indiana. Nationwide, UT's law school is tied for third in the category of professor accessibility with 14 other schools with a score of 97 out of 99. Six schools tied for the No. 2 spot.
"What makes the UT College of Law special is that faculty members are deeply involved in their students' learning and professional development from day one," said Geoffrey Rapp, associate dean for academic affairs and Harold A. Anderson Professor of Law and Values. "Our faculty get to know our students — where they are from, where they want to be, and what kind of law they aspire to practice. This puts them in a position to provide support to help students reach their goals."
The Princeton Review does not rank law schools on an overall basis.
The Princeton Review surveyed 17,700 students attending law school about their school's academics, student body and campus life. The student surveys for the 2019 list were collected during the 2017-18, 2016-17 and 2015-16 academic years. The ratings also are based on institutional data.
Click to access the login or register cheese