Women's volleyball coach named
---
Jason Oliver, who has more than 20 years of experience as a coach and a player on the court, has been named the head women's volleyball coach at The University of Toledo.
Oliver comes to UT from Indiana University, where he spent two years as an assistant coach and recruiting coordinator for the Hoosiers. Prior to that, he was the head coach at High Point University in North Carolina from 2009 to 2016.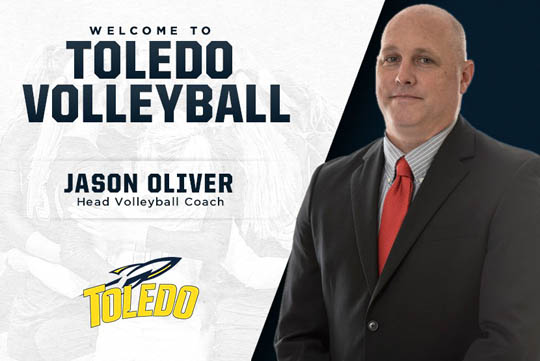 "We are very pleased that Jason Oliver has agreed to lead our women's volleyball program," Vice President and Athletic Director Mike O'Brien said. "Jason is a proven winner with a highly successful tenure as a head coach at High Point and impactful stops as an assistant coach at Indiana, Dayton and West Virginia.
"Jason has all the qualities we desire in a head volleyball coach," O'Brien said. "His teams have a history of academic success, and he has a track record of recruiting high-end talent. He will be a terrific teacher and leader for our young women."
"My family and I are ecstatic to be coming to The University of Toledo," Oliver said. "I want to thank Mike O'Brien, [Senior Associate Athletic Director] Kelly Andrews and [Deputy Director of Athletics] Dave Nottke for giving me the opportunity to be the head women's volleyball coach. I think this program has huge potential, and I'm excited to roll up my sleeves and get after it. It's a great move for me and my family, and we're excited to be a part of a great city like Toledo."
Oliver's stint as the head coach at High Point was the most successful in school history. He led the team to a record of 118-103 during his tenure, both the highest win total and winning percentage in program history. He led the Panthers to a Big South Conference Tournament title and NCAA Tournament appearance in 2010. Oliver helped his student-athletes achieve 17 all-conference honors, two Big South Freshman of the Year awards, and seven all-freshman team honorees.
Off the court, his teams averaged a 3.1 grade point average over seven years, reaching a high of 3.52 in 2015. Two of his former student-athletes were named College Sports Information Directors of America Academic All-Americans, two were named Big South Scholar Athlete of the Year, and eight earned Academic All-Big South distinctions.
Most recently at Indiana, Oliver assisted in leading the Hoosiers to a 21-3 mark in non-conference play over two seasons and coached Jazzmine McDonald to All-Big Ten honors in 2016. As the team's recruiting coordinator, he helped put together a 2017 class that was ranked in the top 30 by PrepVolleyball. Oliver's 2018 recruiting class at Indiana was the most highly regarded in program history, with three top 150 players and the 54th best player in the nation.
In Oliver's three years at the University of Dayton, the Flyers posted an 80-24 record and earned two NCAA Tournament berths. In 2007, Dayton went 33-2 and achieved a No. 12 national ranking from the America Volleyball Coaches Association, advancing to the second round of the NCAA Tournament. Dayton spent 14 weeks in the top 25 and grabbed a national rating percentage index ranking as high as No. 8 in the country. In 2005, the Flyers set school records in kills (2,143), total attacks (5.523) and assists (1,965). During his tenure, Oliver helped train two Atlantic-10 Players of the Year, two Atlantic-10 Setters of the Year and two Atlantic-10 Rookies of the Year, as well as 11 all-conference performers.
During Oliver's time at West Virginia University, the Mountaineers recorded their single largest win total in 13 years, improving from a 6-21 record during the 2003 season to an 18-13 record in 2004. Oliver coached two Big East All-Conference players, two academic All-Americans and three All-Big East Academic performers.
Oliver played volleyball at George Mason University, where he was a co-captain and starting setter during his senior year. He led the team in assists and digs per game in 1997. Oliver set a school record of 99 assists in a match and tallied 1,638 assists in a season.
The Thousand Oaks, Calif., native received his bachelor's degree in communications from George Mason in 1998 and a master of science degree in athletic coaching education from West Virginia in 2005.
Oliver and his wife, Kelly, recently had a baby boy, Miles.