Rockets Earn 3.346 Grade Point Average in Fall Semester
---
University of Toledo student-athletes earned a combined grade point average of 3.346 in the 2021 fall semester, Vice-President and Athletic Director Mike O'Brien announced Monday. It is the highest fall semester GPA ever recorded for the Rockets. It is also the sixth consecutive semester in which UToledo student-athletes have earned a semester GPA of 3.3 or higher.
Women's Swimming & Diving recorded the highest semester team GPA with a mark of 3.789.  Men's Golf (3.737), Women's Tennis (3.690) and Women's Cross Country (3.668) were all above the 3.6 mark.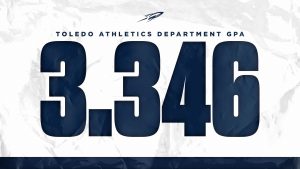 Other highlights from this past semester include:
•  73 student-athletes earned President's List honors with a perfect 4.0 GPA.
•  199 student-athletes earned a spot on the Dean's List by garnering at least a 3.50 GPA.
•  304 student-athletes made the Honor Roll by securing a 3.00 GPA or higher.
"We are very proud of the consistently outstanding efforts in the classroom by our student-athletes," O'Brien said. "We have a proud tradition of academic success at The University of Toledo, and once again our student-athletes lived up to those very high expectations.
"Special recognition goes to Head Coach Brie Globig and our women's swimming & diving program for posting our highest team GPA. I would also like to recognize and thank our Student-Athlete Academic Services staff for their continuing efforts on behalf of our student-athletes, as well as the dedicated University faculty, staff, coaches and parents who support and nurture their efforts in the classroom."
"The Student-Athlete Academics Services department would like to congratulate all student-athletes on another record-breaking semester," said Associate Athletic Director for Student-Athlete Academic Services Tony Belt. "The Athletic Department at The University of Toledo is raising the standard for our student-athletes academically and they have stepped up to the challenge."