Newborn stardust topic of astronomy lecture
---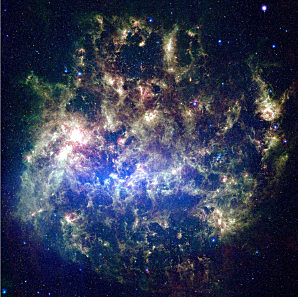 Dr. Uma P. Vijh, UT research assistant professor, will discuss "Glowing Carbon Molecules in Space: Observations Through Earth- and Space-Telescopes" Thursday, Jan. 15, at 7:30 p.m. in Ritter Planetarium on Main Campus.
"I will talk about observations of optical and infrared emissions from large carbon molecules, specifically aromatic hydrocarbons called PAHs, in a variety of astrophysical environments," Vijh said. "PAHs are an important component of the dust around young stars just as they are being born, as well as around dying stars."
The talk is part of the UT Astronomers' Lecture Series, which is sponsored by Ritter Planetarium-Brooks Observatory, Ritter Astrophysical Research Center, and the UT Department of Physics and Astronomy.
The lecture is free and open to the public; there is a suggested donation to Ritter Planetarium of $5 and $2 for students.
For more information, call the UT Physics and Astronomy Department at 419.530.2241 or go to http://www.utoledo.edu/as/rpbo/.