Rockets earn 3.247 grade point average, second highest fall semester GPA in school history
---
University of Toledo student-athletes earned a combined grade point average of 3.247 in fall semester 2018. It is the second highest fall term GPA in school history and the eighth consecutive semester in which UT student-athletes have earned a semester GPA of 3.2 or higher.
Thirteen UT varsity sports compiled a team GPA of 3.0 or higher, with eight squads cracking the 3.5 mark. Women's volleyball set the pace with a team GPA of 3.751, followed by women's swimming and diving (3.638), women's soccer (3.631) and women's tennis (3.608).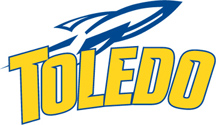 "Our student-athletes have achieved a consistent level of academic excellence for which we take great pride," said Vice President and Athletic Director Mike O'Brien. "The fact that our teams have earned a 3.2 GPA in each of the past eight semesters makes it clear that academics are very important to our student-athletes.
"Congratulations to our student-athletes and to all the dedicated people who support their efforts — our Student-Athlete Academic Services staff, our faculty and our coaches," O'Brien said. "I would also like to extend additional recognition to Head Coach Jason Oliver and our women's volleyball program for recording the highest team GPA last semester."
This past semester, 46 UT student-athletes earned President's List honors (4.0 GPA), second only in school history to the 49 Rockets who had perfect GPAs in spring 2016. In addition, 44 percent (165 of 375) earned a spot on the Dean's List by garnering at least a 3.50 GPA.
"Congratulations to our student-athletes for all of their hard work and for achieving another outstanding semester GPA," said Ericka Lavender, associate athletic director for academic services. "I would like to thank the Student-Athlete Academic Services staff, our faculty and staff, and the coaches for all of their support and hard work with our student-athletes. We are proud to know that our student-athletes can succeed at the highest level academically in addition to handling their athletic commitments every semester."