Fellows Named for MAC Leadership Program
---
Four UToledo faculty members have been selected to participate in the third year of the Mid-American Conference Academic Leadership Development Program.
The program was created to identify, develop, prepare and advance faculty as leaders in the colleges and universities that are members of the Mid-American Conference. Fellows participating in the program have the opportunity to gain valuable knowledge and experience by working closely with select administrators from other colleges and universities in the MAC.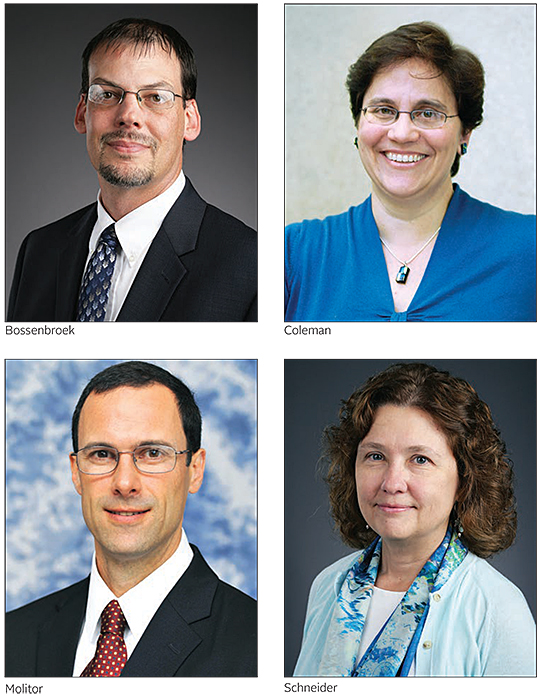 "We are happy The University of Toledo participates in this worthwhile program that helps faculty members reach their leadership potential," Dr. Amy Thompson, vice provost for faculty affairs and professor of public health, said.
Fellows for the 2019-20 academic year are:
• Dr. Jonathan Bossenbroek, professor of environmental sciences and director of the Office of Competitive Fellowships and Undergraduate Research;
• Dr. Maria Coleman, professor and chair of chemical engineering and associate director of the Polymer Institute;
• Dr. Scott Molitor, professor of bioengineering and senior associate dean for academic affairs in the College of Engineering; and
• Dr. Rebecca Schneider, professor of science and teacher education, and associate dean of graduate studies in the Judith Herb College of Education.
All tenured faculty with experience in administrative leadership and service are eligible to apply for the MAC Academic Leadership Development Program. Candidates submitted a letter of support from their dean, as well as an application and curriculum vitae for consideration.
"Our Fellows will work alongside UToledo leaders to learn from their experience," Thompson said. "They also will benefit from working with administrators and peers from other MAC institutions."
All MAC Academic Leadership Development Program Fellows will attend one three-day workshop each semester. Topics to be addressed include budgeting, conflict resolution, accreditation and accountability.
"This program allows our Fellows a chance to prepare for leadership positions while experiencing the challenges and rewards of institutional service," Thompson said. "This is a great opportunity to advance leadership for our UToledo faculty members."
Read more about the MAC Academic Leadership Development Program on the Office of the Provost website.