Rockets earn a 3.202 grade point average; fifth-highest semester GPA in school history
---
University of Toledo student-athletes earned a combined grade point average of 3.202 in the 2016 fall semester, the fifth-highest department semester GPA in school history.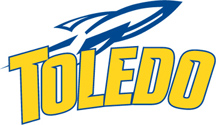 It is only the fifth time UT student-athletes have had a semester GPA above 3.2, and the 16th consecutive semester in which the Rockets earned a combined GPA of 3.1 or higher.
"Excellence in the classroom is what we've come to expect from our student-athletes, and this past semester was no exception" said Vice President and Athletic Director Mike O'Brien. "A department-wide GPA of over a 3.2 is a great accomplishment for our student-athletes, and all those behind the scenes who support their efforts — parents, coaches, faculty, tutors and our student-athlete academic services staff."
Individually, 37 student-athletes earned President's List honors with a perfect 4.0 GPA, while more than 41 percent (154 of 374) earned a spot on the Dean's List by garnering at least a 3.50 GPA, and more than 66 percent (249 of 374) achieved a 3.0 grade point average or better for the 2016 fall semester.
Fourteen of UT's 16 varsity sports teams had combined GPAs of at least 3.0. Women's soccer set the pace with a team GPA of 3.679. Women's golf (3.672), women's volleyball (3.556), women's cross country (3.546) and men's golf (3.512) also were above 3.5 as a team this past fall.