U.S. News recognizes Business & Innovation, Engineering online graduate programs
---
Online graduate offerings in the colleges of Business and Innovation and Engineering are among the best in the nation, according to U.S. News & World Report's Best Colleges 2012 rankings.
The online offering of courses in The University of Toledo's Master of Business Administration Program was ranked second nationally in the area of Student Services and Technology, and No. 42 for Student Engagement and Accreditation.
The College of Engineering's online graduate programs were ranked seventh nationally in Admissions Selectivity, No. 12 in Student Services and Technology, and No. 24 in Student Engagement and Accreditation.
Dr. Thomas Gutteridge, dean of the College of Business and Innovation, said the rankings underline the excellence of UT's online MBA offerings.
"This is a success the entire college can take ownership of," Gutteridge said. "Our online MBA students are often balancing school with a career that is increasingly likely to be global in scope. We've developed high-tech online programs that don't sacrifice the personal interaction that will always remain a critical component of a top-tier MBA Program."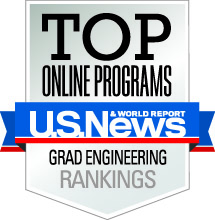 Dr. Nagi Naganathan, dean of the College of Engineering, said the rankings were further evidence the college had developed relevant online educational experiences consistent with the needs of professionals seeking to advance their careers.
"We are a college committed to invention and innovation at the very core of our being, and I'm proud of the way we've been able to translate that spirit and attitude into the way we deliver our curriculum," Naganathan said.
Gutteridge and Naganathan praised the faculty and staff in their respective colleges as being key to the online programs' success. In addition, Gutteridge thanked Dr. Anand S. Kunnathur, professor and senior associate dean, Dr. Robert Detwiler, graduate program adviser, and Cory Marshall, senior computer instructional technology administrator.
Naganathan called special attention to the efforts of Dr. W. Ted Evans, professor of engineering technology and graduate director of the engineering practice-oriented master's program; Christine Smallman, director of engineering professional education programs; and Dr. Mohamed Samir Hefzy, professor of mechanical engineering and associate dean for engineering graduate studies and research administration.
"We dedicate this recognition to the loving memory of the late Dr. Ella Fridman, former professor of engineering technology, whose untiring efforts as the graduate program director helped to build the program to its current level of excellence," Naganathan said.