Food Service to Resume at Savage Arena Beginning on Jan. 25
---
The University of Toledo announced that food services will return to on-campus athletic events on a limited basis, beginning with the men's basketball game at Savage Arena vs. Buffalo on Tuesday, Jan. 25.
Food service will also resume in the suites/Rocket Plaza area, beginning on Jan. 25. The Joe Grogan Room will also re-open.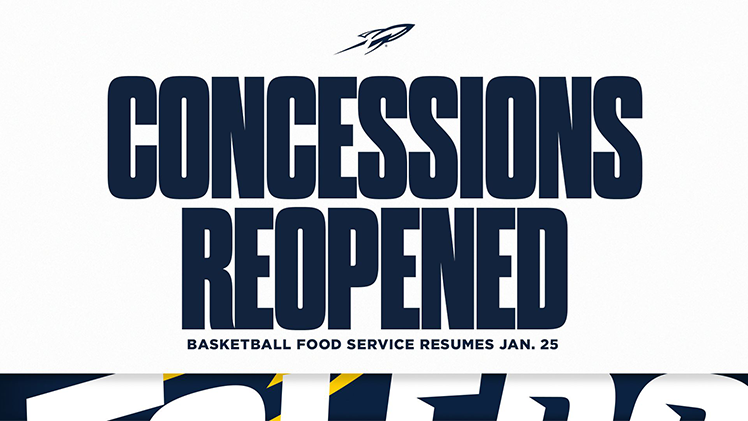 The resumption of food service at UToledo Athletic events, as well as the continuation of full in-person attendance, is contingent upon the cooperation of patrons in complying with University COVID-19 policies. Patrons at UToledo indoor athletic events must wear a mask at all times for their own safety as well as the safety of others. The University will strictly enforce this policy — regardless of vaccination status — for all faculty, staff, students and visitors to campus.
The University also strongly encourages all individuals to get vaccinated, including a booster shot, and to continue using health and safety protocols, including regular hand-washing and maintaining a safe distance from others whenever possible.
Details regarding the resumption of food service at Savage Arena are as follows:
Concessions
Concession food will feature individually packaged food items such as hot dogs, bratwurst, chicken Caesar wraps, garden salad, chips, candy and boxed slices of Domino's Pizza. Water, soft drinks and beer will be available in bottles and cans only.
Joe Grogan Room
The Joe Grogan Room will offer buffet service only. The buffet service will feature appropriate safeguards such as plexiglass screens and sanitizer stands. A bottle of water or canned soft drink is included with a buffet purchase. Additional beverages may be ordered at tables only (no walk-up bar service). Only bottled and canned beverages (water, soft drinks, beer, wine) will be available.