UTMC recognized for stroke care for 10th straight year
---
The University of Toledo Medical Center is being recognized for its superior stroke treatment.
For the 10th year in a row, UTMC has received the American Heart Association/American Stroke Association's Get With The Guidelines®-Stroke Gold Plus Quality Achievement Award with Target: StrokeSM Honor Roll.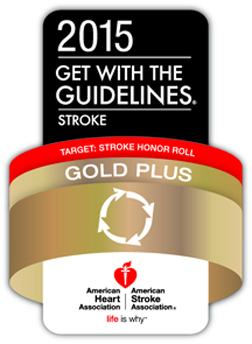 The award recognizes the hospital's commitment and success in ensuring that stroke patients receive the most appropriate treatment based on the latest research.
"It shows the consistent quality care that we provide at this institution," said Dr. Mouhammad Jumaa, assistant professor and director of the Stroke Center and co-director of the Stroke Network. "The University of Toledo Medical Center is one of only a few stroke centers in northwest Ohio to offer research protocols for both acute stroke and stroke prevention. We prevent, diagnose and treat stroke."
Andrea Korsnack, stroke coordinator, said UT's stroke team treated 338 patients in 2014 and about 350 in 2015.
"Receiving this award for the 10th consecutive year cements our foothold as a leader in stroke care in northwest Ohio," Korsnack said.
The UT stroke team, in place since 1994, includes two fellowship-trained interventional neurologists; two fellowship-trained stroke neurologists; a dedicated stroke nurse and nurse practitioner; three neurosurgeons; a neurosurgery nurse practitioner; a CARF-accredited rehabilitation hospital on site; and emergency department, pharmacy, radiology and laboratory staff. CARF stands for Commission on Accreditation of Rehabilitation Facilities.
To receive the Gold Plus Quality Achievement Award, hospitals must achieve 85 percent or higher adherence to all Get With the Guidelines-Stroke achievement indicators for two or more consecutive 12-month periods and achieve 75 percent or higher compliance with five of eight quality measures.
The honor roll accolade requires that hospitals reduce the time between the patient's arrival at the hospital and treatment with the clot-buster tissue plasminogen activator, or tPA. If given intravenously in the first three hours after the start of stroke symptoms, tPA has been shown to significantly reduce the effects of stroke and lessen the chance of permanent disability.
Stroke is the No. 5 cause of death and a leading cause of adult disability in the United States, according to the American Heart Association/American Stroke Association.