White-out to be held Jan. 26 for men's hoops game vs. Kent State
---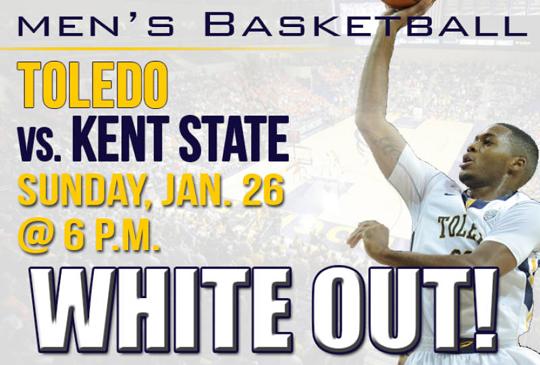 The Toledo men's basketball program will hold the first of three "White-outs" when it hosts Kent State Sunday, Jan. 26, at 6 p.m. in Savage Arena.
A "white-out" also is planned for the Rockets' home games vs. Ohio Wednesday, Feb. 12, and Western Michigan Saturday, March 1.
The first 900 UT students will receive a white Rocket basketball launch pad T-shirt to wear at the game. All fans are encouraged to wear white.
Toledo, which is in the midst of its best season in many years, possesses a 16-2 overall record and holds a one-game lead over Eastern Michigan in the Mid-American Conference's West Division. The Rockets also are tied with Akron for the best league ledger with their 4-1 win-loss mark in MAC play.
Click to access the login or register cheese