Celebrity Wait Night to raise funds for Eberly Center
---
UT President Sharon L. Gaber, Provost Andrew Hsu, Toledo City Councilwoman Cecilia Adams and other local luminaries will welcome guests and support the Ninth Annual Celebrity Wait Night Thursday, Feb. 9, from 6 to 9 p.m. at the Pinnacle, 1772 Indian Wood Circle, Maumee.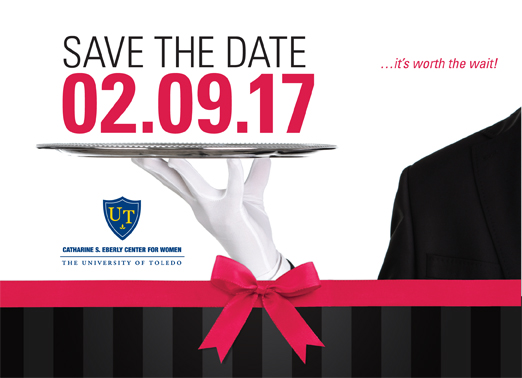 The Celebrity Wait Night is hosted by the Catharine S. Eberly Center for Women and will feature a dinner served by local celebrities, as well as a silent auction, scholarship recipient acknowledgement, and live entertainment throughout the evening.
Tickets are $70 each or $600 for a table of 10. More than 400 guests are expected to attend the event. Proceeds will support the Eberly Center's Women's Success programming, which provides training and workshops to those hoping to go back to school, make a career change, or better themselves.
The center provides free resources and education on business etiquette, professional branding, resumé writing and more. Kate's Closet, a boutique-style shop that provides free professional clothing to UT students, is another Eberly Center resource that will benefit from event proceeds.
Dr. Shanda Gore, UT associate vice president for the Catharine S. Eberly Center for Women, said the goal of the Women's Success Programing is to teach people to be the best they can be.
"Students from all colleges seek out our support throughout the year," Gore said. "The Eberly Center is a resource not only for scholarships, but with programs that help keep them healthy, balanced and in school."
RSVP by calling the Eberly Center at 419.530.8570 or click here.