Men's basketball games to be televised
---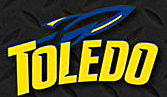 The University of Toledo men's basketball contest at Buffalo Saturday, Jan. 31, will be televised live on ESPN2, and the Rockets' home game against Miami Saturday, Feb. 7, will be shown live on Fox Sports Net Ohio, the Mid-American Conference office announced.
As a result, the starting time for the Buffalo contest has been moved to noon, and the Miami game tip-off has been changed to a 2:30 p.m. Both games were originally slated to begin at 7 p.m.
The last time Toledo appeared on ESPN2 was when it dropped a 66-56 decision at Kansas in 2006.
Toledo possesses an 11-2 all-time record against the Bulls, including a 76-63 home triumph last season. The Rockets trail their all-time series with the RedHawks by a 65-49 margin and have dropped five of their last six meetings.
Click to access the login or register cheese