Rocket football coaches to present 2009 recruiting class
---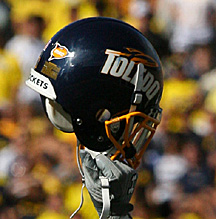 The University of Toledo football coaching staff will host a special presentation of its 2009 recruiting class Wednesday, Feb. 4, at 4 p.m. in the Savage Arena Grogan Room.
All Rocket fans are invited to attend. Free soft drinks and snacks will be provided.
Head Coach Tim Beckman and his assistant coaching staff will announce their 2009 recruiting class and show video highlights of each signee at the event.
Feb. 4 is the first day that high school seniors are allowed to sign national letters of intent.
For more information, go to www.utrockets.com.
Click to access the login or register cheese