Three Rockets land on 2012-13 Women's Cross Country Academic All-MAC list
---
Three Toledo women's cross country runners were selected to the 2012-13 Academic All-Mid-American Conference Team.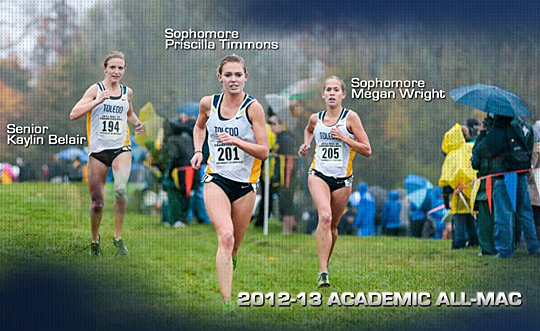 Senior Kaylin Belair and sophomores Megan Wright and Priscilla Timmons each earned the recognition for the first time based on their efforts inside and outside of the classroom.
The Rockets and Miami led the league with three runners appearing on the list.
Belair was the top runner for the 2012 MAC Champions, leading the Rockets in nearly every race en route to the program's highest national ranking in team and conference history (No. 15). An All-MAC first-team performer, Belair placed second overall at the MAC Championship and 11th in the NCAA Great Lakes Regional race. She was recognized as the MAC Runner of the Week following her performance at the Wisconsin Adidas Invitational when she set a personal-best time of 20:22.00. The senior also was the team's top finisher at the NCAA Championship in 49th place. Belair has accumulated a 3.43 grade point average and competes on the UT indoor and outdoor track squad.
Wright also was a first-team all-conference runner for the three-time defending MAC Champions. She finished third at the MAC meet, which ended up being her final race of the season after suffering an injury. Wright stepped up as a reliable runner when sophomore Mackenzie Chojnacky experienced an illness toward the end of the season. The pre-occupational therapy major posted a personal-best mark of 20:46.00 on the course and has a cumulative GPA of 3.35. Wright also runs on the indoor and outdoor track team.
Timmons earned second-team all-league honors following her eighth-place finish at the conference championship meet. Most notably, Timmons raised her level of performance at the National Championship to finish second among UT runners. The sophomore also placed 29th at the NCAA Great Lakes Regional and recorded a personal-best time of 20:48.00 over the course of the season. A physical therapy major, Timmons carries the highest GPA of the three UT selections with a 3.71 mark. She runs on the indoor and outdoor track team as well.
The Midnight Blue and Gold spent the entire fall ranked in the U.S. Track and Field and Cross Country Coaches Association's National Top-30 Coaches' Poll and captured its fifth MAC title in 2012. UT also made its third straight appearance at the National Championship meet, finishing in 28th place.