Toledo signs 23 future Rockets in highly regarded 2017 football recruiting class
---
University of Toledo Head Coach Jason Candle announced Feb. 1 that the Rockets have signed 23 student-athletes to their 2017 football recruiting class. The class is ranked No. 1 in the Mid-American Conference by 247 Sports, Scout.com and Rivals.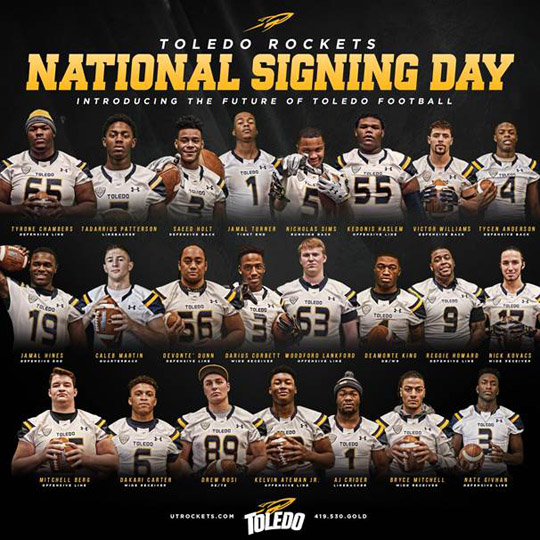 "I feel like this is a complete class," Candle said. "We signed at least one player at each position. We addressed some needs on the defensive front. That was a high-priority for us. But mostly we are looking at character, young men who fit into our program and are passionate about football. Our staff did a really good job of fostering relationships and bringing the right kind of players into our program."
This is the second recruiting class for Candle as head coach. His 2016 class was ranked No. 2 in the MAC by 247 Sports and No. 3 by Rivals and Scout.com.
Before taking over as UT's head coach in December 2015, Candle had been an assistant on the Rockets' staff since 2009. In 2010, Candle was named one of the top recruiters in the nation by Rivals, the only coach from the MAC to make the list that season. He was named Mid-American Conference Recruiter of the Year in both 2011 and 2012 by Scout.com.
Candle and his staff recruited heavily in Ohio and surrounding states, but they also signed talent further from Toledo. Twelve signees came from Ohio, two from Pennsylvania, one from Michigan, one from Kentucky and one from Illinois. The Rockets went south for six recruits, signing four players from Alabama and two from Florida.
"The state of Ohio and a four-hour radius from campus will always be our home base," Candle said. "But we will also go where we need to find players. Playing on TV and in bowl games definitely helps expose your brand to different parts of the country. I don't think it's a coincidence that we signed six players from Alabama and Florida, states where we've played our last three bowl games."
Read more and see videos of recruits here.