Lifelong education at the heart of Higher Learning Commission's Criterion 4 goals
---
University students learn many things during their collegiate years.
Just a few: the principles of thermodynamics, interpretations of John Milton's Paradise Lost, gross anatomy, visual versus kinesthetic learning, the theory of Kantian ethics, and, although "procrastination" may score big points in Words With Friends, it's not a good strategy for college life.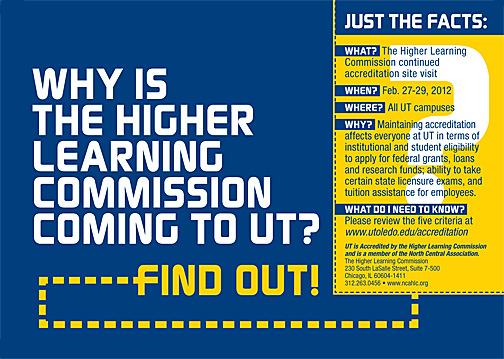 All focus on a concept of "life of learning," which is at the heart of Criterion 4 of UT's continuing accreditation process with the Higher Learning Commission (HLC) of the North Central Association of Colleges and Schools.
Jolene Miller, director of the Mulford Health Science Library, was co-leader of the Criterion 4 team that explored UT's adherence to "Acquisition, Discovery and Application of Knowledge," the goal of which reads: "The organization promotes a life of learning for its faculty, administration, staff and students by fostering and supporting inquiry, creativity, practice and social responsibility in ways consistent with its mission."
"Our team understood a life of learning to be a process that encourages intellectual growth and development across the life span," Miller explained. "That's going to be different across different disciplines and career paths. We have so many avenues that stretch our learning capabilities, from research to creative arts, to professional development and diversity programs."
Miller said the team found that UT encourages a life of learning in many ways; below are a few detailed in UT's HLC self-study report:
• Since 2004, funding for University Research Awards and Fellowship grant programs reached more than $2.8 million.
• A series of translational research stimulation awards are in process through UT's partnership with ProMedica.
• The University of Toledo Press was revitalized to highlight literary work of significance to northwest Ohio.
• Major physical renovations were made in several creative arts departments to optimize performance capabilities.
• Advanced academic and research programs were introduced in the fields of sustainable, photovoltaic and alternative energies.
The HLC places emphasis not only on fostering the life of continual discovery and learning, but also on guiding ethical discovery, acquisition and use of knowledge. From the University Research Council to the Compliance Office, to the Office of Research and Sponsored Programs, to the Institutional Animal Care and Use Committee, the Criterion 4 team found numerous examples of systems in place to encourage appropriate discovery and application of knowledge.
"One of the things we do well is that we have many different methods for helping the UT community understand what academic integrity is," Miller said. "What does it look like and how do we uphold it in our everyday activities? We talk about compliance in general, but there are many specific ways that we educate and guide our students, faculty and staff in the discovery and use of knowledge.
"The committee also felt that academic freedom is a key aspect to the acquisition, discovery and application of knowledge," Miller continued. "Although some may differ to the degree of such freedom, we interpreted having academic freedom as the ability to freely research questions of interest, learn about and express ideas, and talk them out."
Examples cited in the self-study include multiple policies and provisions in bargaining agreements designed to protect the academic freedom of faculty, librarians, staff, students and visitors. In addition, numerous speakers of varied viewpoints, including then presidential candidate Barack Obama, civil rights activist Jesse Jackson and Holocaust survivor and author Elie Wiesel, have appeared at UT, and protests regarding labor practices, state and national legislation, and societal issues have taken place on campus.
Miller said opportunities for Criterion 4 improvement were identified in areas of equity in professional development funding; definition and assessment of core curriculum course work; and sustainability of targeted student and faculty programs in the event of continued economic challenges.
A longtime employee, Miller said she was impressed by UT's innovations in student services. "It's been a long time since I was an undergrad myself," she noted. "What I found most fascinating are all the things we're doing in terms of support programs for undergrad education, from orientation programs to the first-year experience, to global opportunities and cultural programs.
"We've embraced the idea that learning and development don't happen just in the classroom, but also through participation in student organizations, professional development programs and service projects."
Additional Criterion 4 team members were co-leader Dr. Charlene Czerniak, Sherry Andrews, Dr. Sonny Ariss, Dr. Jiquan Chen, Dr. Vijay Devabhaktuni, Dr. Renee Heberle, Dr. Mohamed Samir Hefzy, Dr. Ruth Hottell, Ken Kilbert, Dr. Barbara Kopp-Miller, Dr. Dan Kory, Dr. Tom Kvale, Holly Monsos, Dr. Steve Peseckis and Mary Jo Waldock.
UT's self-study report can be viewed at utoledo.edu/accreditation/pdf/selfstudy.pdf. An executive summary is available at utoledo.edu/accreditation/pdf/execsummary.pdf.