Feb. 22 Deadline to Nominate Outstanding Teachers, Advisors
---
Nominate someone at The University of Toledo who has provided exceptional support for their students for the 2021 Outstanding Teacher Award and 2021 Outstanding Advisor Award.
Nomination forms for the longstanding annual awards are available at the Office of the Provost website and must be submitted by 5 p.m. Monday, Feb. 22. Recipients of this year's awards will be announced in April.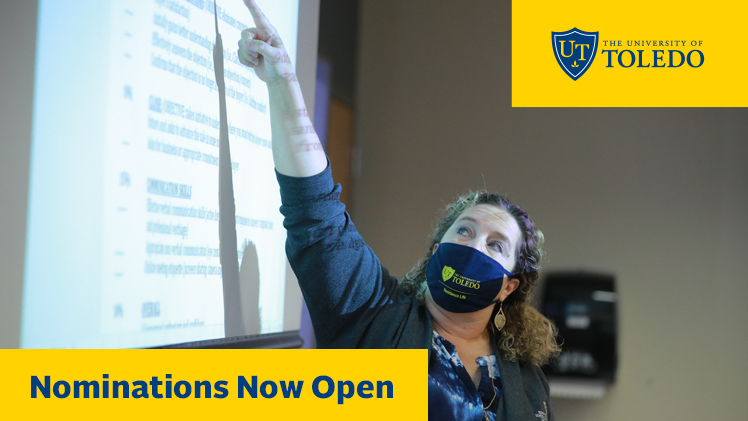 The Outstanding Teacher Award recognizes outstanding UToledo faculty members who have made a positive impact by inspiring, motivating and challenging their students.
A maximum of six full-time faculty members will receive the award — a $1,500 cash stipend and a certificate of recognition.
All full-time faculty at the University who have not already received the recognition are eligible for the award. The Outstanding Teacher Committee will select the 2021 recipients from the nominations submitted by students, faculty and alumni.
The Outstanding Advisor Award is for academic advisors who have gone above and beyond to help empower their students.
Nominees should demonstrate strong interpersonal skills; educate and empower students to make informed academic decisions; prioritize their commitments to maximize academic success; and be knowledgeable of UToledo policies and resources.
There will be two recipients of the Outstanding Advisor Award, each receiving $1,500. Any full-time advisor who has not been previously recognized is eligible.
Students, alumni, faculty and staff are encouraged to submit nominations.