UT pharmacy students to host Cleveland conference in March
---
The University of Toledo chapter of the Student National Pharmaceutical Association is encouraging pharmacy students and faculty to sign up for the 2016 regional conference that will take place Friday through Sunday, March 11-13, at the Renaissance Hotel in Cleveland.
Early bird discounts are available for those who register through Sunday, Feb. 7.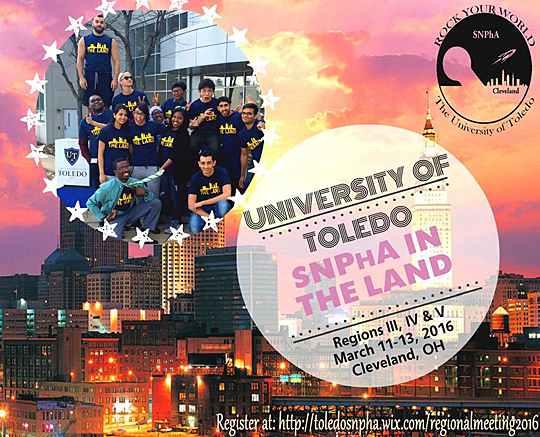 This year the 90-member UT chapter is hosting the conference that will draw pharmacy students and pharmacists from across the country.
"We want to revive passion for pharmacy," Ami Mehta, a second-year pharmacy student at UT and association member, said. "Our mission is to serve the underserved."
UT student leaders titled the conference "ROCK YOURx WORLD!"
"The weekend event is a good way to network, meet potential employers, and grow personally and professionally," Akeem Bale, president of the local chapter and third-year pharmacy student at UT, said. "We have organized a clinicals competition and a talent show to celebrate our diversity. Plus, we will hold several innovative continuing education workshops, such as financial literacy and the dangers of drug abuse."
To register for the conference, click here.