Clearing Snow
February 4, 2022 |
News
By Daniel Miller
---
A UToledo groundskeeper works to remove snow Thursday morning on Main Campus during a winter storm that blanketed much of the country in snow and ice.
University grounds crews began working 11 p.m. Wednesday and continued around the clock into Friday clearing nearly 40 miles of sidewalks and more than 100 acres of parking areas on UToledo campuses multiple times.
The campus community is asked to move their vehicles from specific parking areas this weekend so crews can more effectively clear snow. Read UToledo News story for details.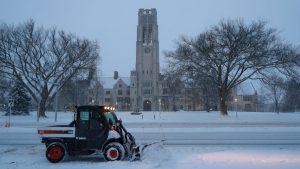 Click to access the login or register cheese