Student-athletes earn 3.145 GPA last semester
---
University of Toledo student-athletes earned a grade point average of 3.145 fall semester.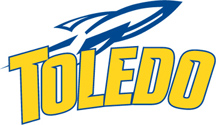 It is the 10th consecutive semester in which UT student-athletes earned a combined GPA of 3.1 or higher. Additionally, 13 of UT's 15 sport programs earned team GPAs of 3.0 or above.
Individually, 29 student-athletes earned president's list honors with a perfect 4.0 GPA, while 35 percent (128 of 345) earned a spot on the dean's list by garnering at least a 3.50 GPA. Additionally, 65 percent of UT student-athletes achieved a 3.0 grade point average or better for fall semester.
Women's golf had the highest team GPA at 3.625. Baseball had the highest GPA for a men's team with 3.435.
"UT student-athletes have consistently excelled in the classroom, and this past semester was no exception," said Vice President and Athletic Director Mike O'Brien. "For the past 10 semesters, our student-athletes have earned a combined grade-point average of at least 3.1, which I think is a tremendous indication of our dedication and commitment to academics. Our student-athletes should be applauded for their efforts, and we should also commend the coaches, athletic department academic staff and University faculty members who support and nurture their pursuit of excellence."
UT student-athletes have won the Mid-American Conference Institutional Academic Achievement Award in each of the past two seasons. The award is given to the MAC school with the highest overall institutional GPA in sports sponsored by the conference.