Celebrate Year of the Rooster Feb. 13
---
The Confucius Institute will hold its eighth annual Chinese New Year celebration Monday, Feb. 13, from 11 a.m. to 2 p.m. in the Thompson Student Union Auditorium.
"Students will have an opportunity to learn about the Spring Festival and the various Chinese traditions through demonstrations and hands-on activities," said Xinren Yu, international program coordinator in the Confucius Institute.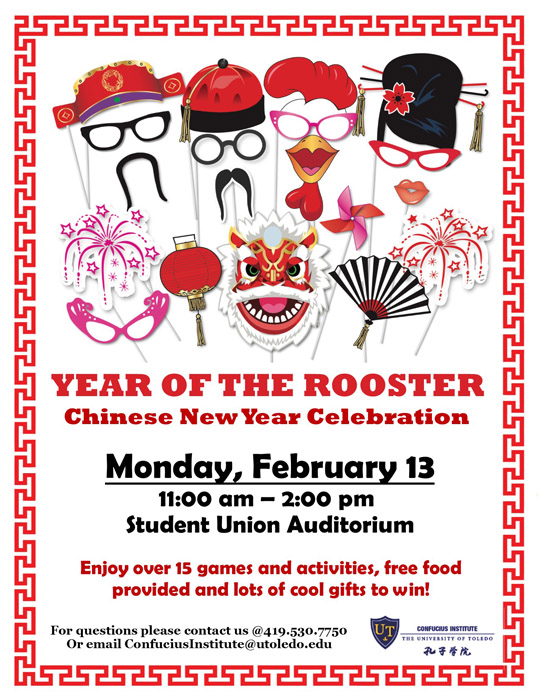 Those who attend the event will get to take part in more than a dozen activities and cultural experiences, including lantern painting, string piano playing, Chinese calligraphy, a Chinese tea ceremony, paper cutting and more.
Several games such as ring toss, rope jumping and pingpong also will be available for students to play. There also will be a New Year photo booth where students will be able to have their pictures taken.
There will be lots of prizes for students to win at the event, and a free lunch will be provided.
The Chinese New Year is the most important holiday for the Chinese and is a time for family reunions. Many of the traditional rites and activities during the Chinese New Year are meant to bring good luck to the household and long life to the family.
The Confucius Institute serves northwest Ohio by providing education in Chinese language and culture. It also offers opportunities for cultural exchange between China and the United States.
For more information or questions, call the Confucius Institute at 419.530.7750 or email ConfuciusInstitute@utoledo.edu.