Abundant engagement opportunities identified in Higher Learning Commission's Criterion 5
---
If there's been a common reaction among those involved with UT's continuing accreditation process, it has been surprise at what they've learned.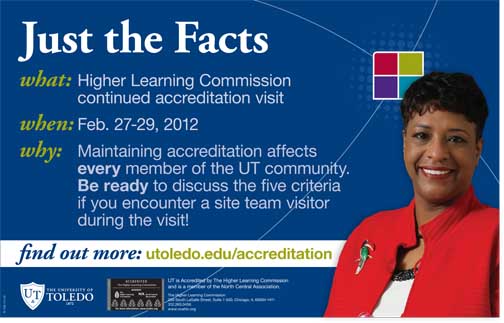 Dr. Mojisola Tiamiyu is no exception. The associate professor of psychology echoed statements from colleagues who helped prepare UT's self-study report: "I was very pleasantly surprised to learn of the variety, the diversity, the number of initiatives our institution offers as part of our mission to improve the human condition. There is so much happening at individual college levels. Our challenge was to narrow it down to the things we're doing that meet the requirements of Criterion 5."
The final criterion from the Higher Learning Commission (HLC) of the North Central Association of Colleges and Schools focuses on engagement and service, specifying, "As called for by its mission, the organization identifies its constituencies and serves them in ways both value."
Examples reflecting a dynamic of collaboration between UT and its populations, including students, faculty, staff and the at-large community, include:
• The Catharine S. Eberly Center for Women, which offers programs designed to educate and empower women in both the UT and northwest Ohio communities. The center regularly solicits and evaluates feedback regarding needs of its customers.
• Innovation Enterprise Inc., created to nurture and support ingenuity in technological, biomedical and research fields, as well as startup businesses, is tied to the community in terms of creating regional and state economic opportunities.
• The Area Health Education Center has a lengthy history of providing educational opportunities to students and health-care professionals throughout Ohio and serves as administrative headquarters for the statewide office.
• University administration, including President Lloyd Jacobs and several faculty members, serve as key advisers to the Lucas County Improvement Corporation, assisting its mission to stimulate regional economic growth.
• The College of Law connects students to the greater community through various education and advocacy programs.
• The Urban Affairs Center focuses on economic vitality and quality of life in the greater Toledo area by identifying challenges and facilitating solutions for neighborhood, urban and regional development.
Tiamiyu said the addition of community members to the Criterion 5 team was valuable to its evaluation process.
"We were looking into engagement and service to our greater community, so we thought it would be a good idea to have what could be called neutral participants from outside the University to give us a real taste of how they felt our institution interacts with our neighbors," Tiamiyu said.
Internally, Tiamiyu said student engagement opportunities on Health Science and Main campuses are abundant, with more than 200 professional and social organizations available to students at all levels; hundreds of academic collaborations, internships and co-ops offered through each college; study abroad programs; and service through medical missions and programs, such as the Jefferson Awards for Community Service.
Athletic endeavors touch the lives of those on and off campus through seasonal events, year-round community camps for budding athletes, intramural programs and various activities at the Student Recreation Center and the YMCA Morse Center.
Not surprisingly, Tiamiyu's team found that with so many points of engagement occurring on a day-to-day basis, keeping track can be difficult. In the self-study report, the Criterion 5 team reinforces a proposal from UT's Directions 2011 strategic plan that a clearinghouse office be established as a "user-friendly gateway for all University constituents, as well as a database of faculty expertise in community outreach and engagement."
This office, the team noted, would be helpful for a number of purposes, including strategic planning, budgeting and curricular development.
A method of better gathering feedback also would be beneficial, Tiamiyu said.
"Our team also noted that, as part of collecting feedback from our various stakeholders, UT needs to establish a system to measure repeat business from our customers, whether they are students at various levels, alumni or donors, so we can sustain valuable partnerships."
Additional Criterion 5 team members were Brad Corlett, Dr. Patricia Hogue, Dr. Lisa Kovach, Barbara Miner, Dr. Kelly Phillips, Dr. Brian Randolph, Dr. Kathleen Salyers, Sabina Elizondo-Serratos, Tina Skeldon Wozniak and Dr. Linda L. Smith.
UT's self-study report can be viewed at utoledo.edu/accreditation/pdf/selfstudy.pdf. An executive summary is available at utoledo.edu/accreditation/pdf/execsummary.pdf.