'Black Revolution' theme of fashion show Feb. 13
---
Nearly 600 students are expected to line the runway at this year's Black Student Union Fashion Show.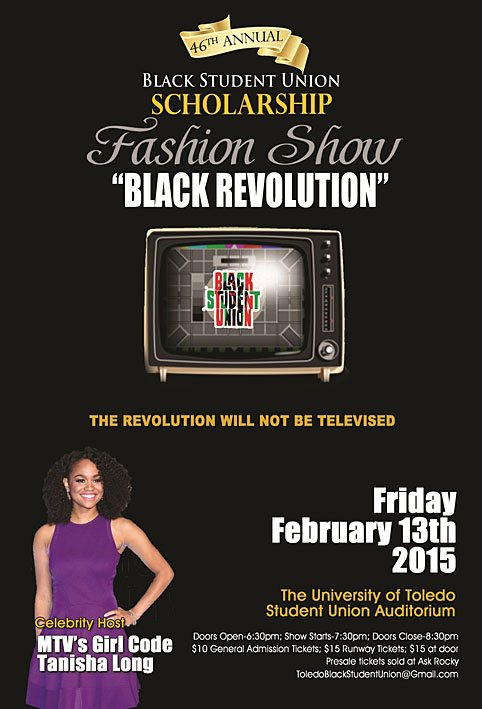 The University of Toledo's Black Student Union will host its 46th annual show Friday, Feb. 13, at 7:30 p.m. in the Student Union Auditorium. Comedian Tanisha Long, who appears on MTV's "Girl Code," will emcee the event.
Black Student Union Vice President Tiffany Fulford said this year's theme, "Black Revolution," was created by the show's co-directors and BSU members, Teddi Covington and Autumn Baker.
"We collectively thought this theme would be great because of Black History Month and the recent protests against police brutality," Fulford said. "Teddi and Autumn wanted to paint a picture through fashion and music of blacks' rise from 1960s segregation to present day."
In addition to Long emceeing the show, Fulford said she will host a UT version of "Girl Code" that will include a variety of topics from fashion to racial issues.
"We pride ourselves on promoting unity on top of diversity, which includes many collaborations and working alongside the Office of Excellence and Multicultural Student Success," Fulford said. "I think the work we do positively influences students, faculty and staff. The programs we put on revolve around our goals, which are to promote academic success, black culture, black unity and community service. We strive for each event we put on to exemplify those goals."
Tickets — $10 for general admission or $15 for runway seats — can be purchased before the event at the Ask Rocky counter in the Student Union. They also will be available at the door for $15.
The show is part of UT's Black History Month celebration. All proceeds will go toward scholarships to support African-American students.
For more information, contact Fulford at tiffany.fulford@rockets.utoledo.edu.