Rockets to deliver Valentines at Toledo Children's Hospital
---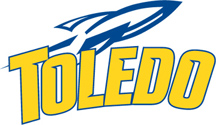 Head Football Coach Tim Beckman and a group of football players will make their annual Valentine's Day visit to Toledo Children's Hospital Friday, Feb. 11.
The players made Valentine's Day cards Wednesday and will deliver them to children staying at the hospital.
The visit is part of the football program's community outreach in the month of February. Each Friday in February, the football team volunteers its time for a community project. Other community projects have included face-painting youngsters waiting to have dental work done at UT Medical Center during "Give a Kid a Smile Day" and visiting children at Apple Tree Nursery School on UT's Main Campus.
Last year, the team held a bowling fundraiser that generated $3,000 for the American Red Cross's Haiti Relief Fund.
"I think it's very important for our young men to give back a little something to the community that supports them on Saturdays in the fall," Beckman said. "It only takes a little effort on our part to visit children in the hospital or volunteer at a school. We want our student-athletes' experience to be more than just about playing football and going to class."
Click to access the login or register cheese