Rocket Romance in the Air: Show Love for UToledo and Donate
---
Love is in the air with the Rocket Romance campaign, which launched Feb. 1 and runs through Saturday, Feb. 29.
All month long, the University is celebrating love for UToledo and the many Rocket romances that have bloomed on campus throughout the years.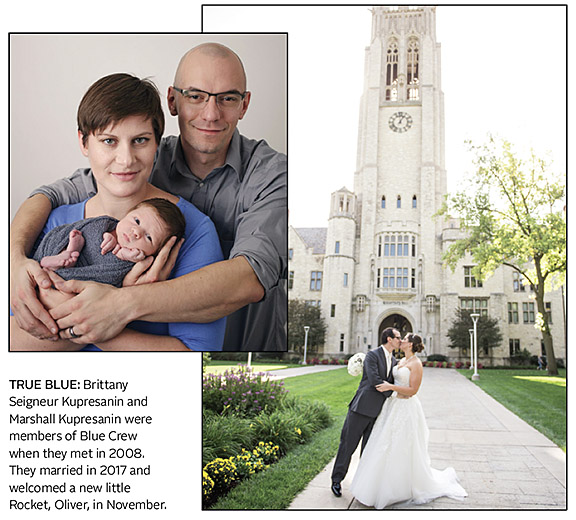 Brittany Seigneur Kupresanin and Marshall Kupresanin were members of Blue Crew when they met in 2008. They married in 2017 and welcomed a new little Rocket, Oliver, in November.[/caption]More than 70 couples spanning from their 20s to their 90s are featured in a multi-channel fundraising campaign to help Rockets fall in love with UToledo all over again.
"The campaign is a great way to reignite your passion for the University while sharing your love stories," said Heather Slough, director of annual giving and leadership engagement. "Help inspire others to give and create the next chapter for future generations of Rockets."
Fueling futures and love — that's The University of Toledo. Blue Crew members Triplicious and Mr. Business met when they were freshmen in 2008.
"We were friends for two years before we started dating," Brittany Seigneur Kupresanin, success coach in the Center for Success Coaching, said. "We spent so much time together traveling to games and events."
So when Marshall Kupresanin decided to pop the question in 2016, he engineered a surprise on campus.
"He proposed to me at the exact spot on campus where we met. We're still involved with Blue Crew as alumni, and he said there was an initiation ceremony on campus for a new Blue Crew member," Seigneur Kupresanin recalled. "As we turned the corner to enter the east courtyard by University Hall, I see all these people, and Blue Crew members held up signs that said, 'Will you marry me?' And Marshall got down on one knee. It was very sweet, especially because our family and friends were there."
The two married in 2017. Brittany received a bachelor's degree in bioengineering in 2013 and a master's degree in counselor education in 2015, and Marshall graduated with bachelor's degrees in history and theatre in 2012, and a law degree in 2015.
Falling in love on campus runs in the family. Seigneur Kupresanin's parents met while students. Mark Harris, a 1981 UToledo alumnus, met Ann Seigneur Harris at a Sigma Phi Epsilon party in 1980.
And the family welcomed a new member, Oliver, who was born in November. Coincidentally, Brittany went into labor exactly 11 years to the date she and Marshall met on campus.
"We all hope Oliver is a future Rocket," said Seigneur Kupresanin, who just returned from maternity leave to work at her alma mater.
This month, UToledo alumni, employees, students and fans are asked to ignite the flame in others and show they care. Make gifts to the Rocket to Rocket Fund to provide emergency assistance for students in need, to the Rocket Fund to provide unrestricted support for Rocket athletics, or to the UT Foundation General Scholarship. Then spread the love and post or tweet favorite love stories or photos on social media with #RocketRomance to celebrate.
All gifts to the campaign are tax-deductible, and there are a variety of payment options available; these include installments and payroll deduction for UToledo employees.
"Whether you give $5 or $5,000, every gift is valued and appreciated, regardless of amount," Slough said.
"Because we're sharing the love, too, all donors to this campaign will receive a special gift," Slough added.
For more information or to make a pledge, visit the Rocket Romance campaign website.