Spring Festival to Ring in Chinese New Year
---
Celebrate the Year of the Rat at the Chinese New Year Spring Festival Carnival Tuesday, Feb. 18.
The Confucius Institute will present the free event from 11:30 a.m. to 2 p.m. in the Thompson Student Union Auditorium.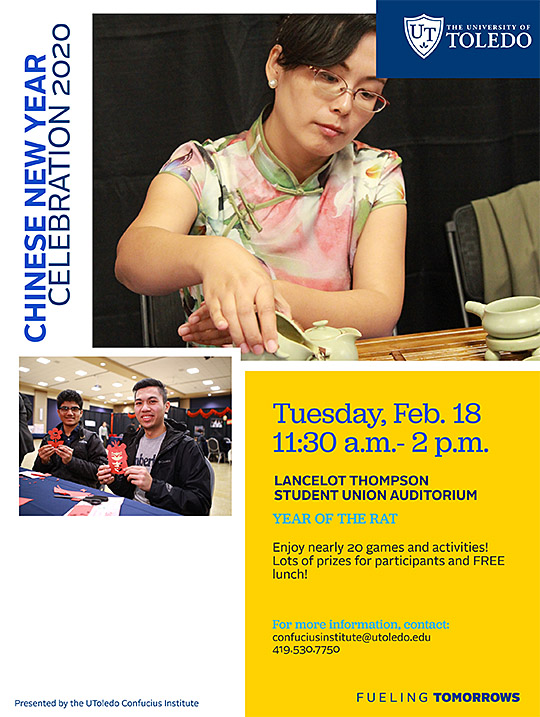 This event that honors the beginning of a new year on the lunar calendar is an annual favorite, according to Xinren Yu, assistant director at the UToledo Center for International Studies and Programs.
"Students love this celebration because they get to experience different aspects of the Chinese culture, so we thought it's important to continue the tradition," Yu said.
The rat is the first of the repeating 12-year cycle of the Chinese zodiac. People born in the Year of the Rat — 1946, 1958, 1960, 1972, 1984, 1996, 2008, 2020 — are sociable, optimistic, energetic and kind.
Those who attend the event will have a chance to take part in more than a dozen cultural activities, including Chinese paper cutting, paper folding, calligraphy, Chinese mask painting, lucky knot making and more.
Several games such as pitch-pot, ring toss and pingpong challenge also will be available to play.
"Stop by for fun and to make new friends. We are giving away lots of rat souvenirs, and free lunch is provided," Yu said.
The Confucius Institute serves northwest Ohio by providing education in Chinese language and culture. It also offers opportunities for cultural exchange between China and the United States.
For more information or questions, call the Confucius Institute at 419.530.7750 or email confuciusinstitute@utoledo.edu.