Health Science Campus Artist Showcase to open this week
---
The 12th Annual Health Science Campus Artist Showcase will open Friday, Feb. 17, and run through Friday, April 7, on the fourth floor of Mulford Library.
On display will be nearly 60 works — paintings, drawings, photographs and multimedia pieces — created by 30 students, faculty and staff members in health sciences, including medicine and nursing.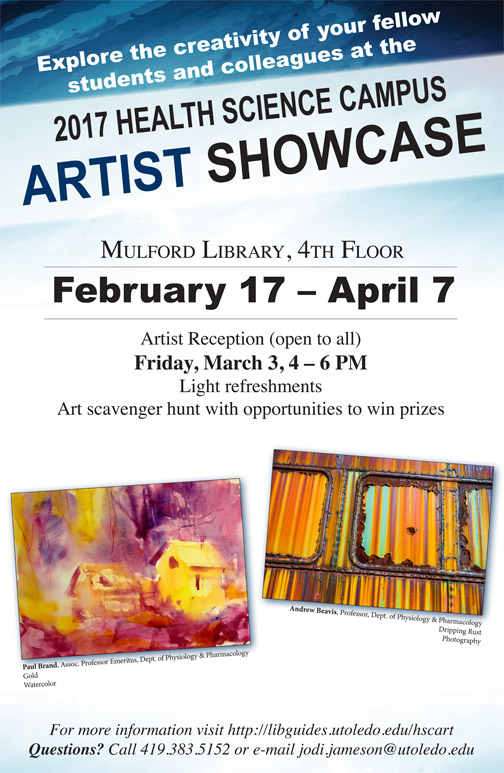 "This is a chance for individuals who are typically only associated with science to be seen for their creative side," said Jodi Jameson, assistant professor and nursing librarian at Mulford Library, and member of the artist showcase committee. "The showcase is a way of displaying their artwork and highlighting their talents."
In conjunction with the free, public exhibit, a reception with the artists will be held Friday, March 3, from 4 to 6 p.m. on the fourth floor of the library. 
"Attendees will have a chance to win books on art and medicine by participating in an art scavenger hunt," Jameson said, adding that light refreshments will be served.
Visitors can view the artwork during regular library hours: Monday through Thursday from 7:30 a.m. to midnight; Friday from 7:30 a.m. to 7 p.m.; Saturday from 9 a.m. to 9 p.m.; and Sunday from 9 a.m. to midnight.
For more information, visit libguides.utoledo.edu/hscart or contact Jameson at jodi.jameson@utoledo.edu or 419.383.5152.