Kids get active, eat healthy with Grow Well With Us program
---
UT Family Medicine residents are promoting healthy lifestyles with nutrition education and physical activity with the Grow Well With Us program supported by the Ohio Medicaid Technical Assistance and Policy Program.
Grow Well With Us aims to teach kids how to make healthy lifestyle choices and is free for children and teens age 18 and younger.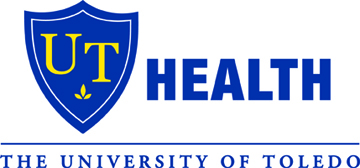 Sessions are held once a week for an eight-week cycle. Each meeting lasts an hour and consists of a 30-minute interactive presentation focusing on nutrition prepared by a certified dietitian and 30 minutes of physical exercise led by an athletic trainer.
Participants take pre- and post-questionnaires, weights, physical fitness evaluations, and satisfaction surveys to evaluate their progress and provide feedback about the program.
Dr. Reem Tawfik, chief resident in family medicine and lead physician for Grow Well With Us, said after the first cycle of the program, parents saw their kids' behavior change according to what they had learned at the program.
"Moms used to attend the sessions with their kids, and many of them have told me that their kids started to read labels, look at the calories per serving, and started to try healthy choices that were mentioned in the diet lectures," Tawfik said. "We have even noticed that some of the residents who were delivering the lectures changed behavior and made healthier selections."
Participants will receive many incentives such as water bottles, sports bags, lunch boxes, T-shirts and more.
All of the sessions will be held at the Morse Fitness Center in Dowling Hall Room 3324 on UT's Health Science Campus.
The spring session for 2017 will run on Wednesdays, March 1, 8, 15 and 22 and April 5, 12, 19 and 26.
The fall session also will run on Wednesdays, Sept. 6, 13, 20 and 27 and Oct. 4, 11, 18 and 25.
Sessions will take place from 6 to 7 p.m.
For more information or to register for the free program, call 419.383.5502.