UT offers Saturday Morning Science programs
---
The University of Toledo's College of Natural Sciences and Mathematics will host Saturday Morning Science programs.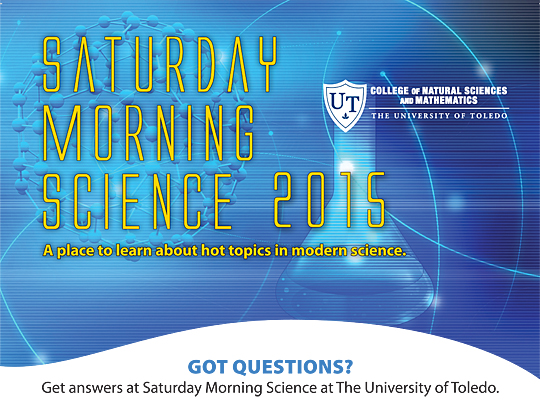 The free, public lecture series will cover a diverse range of scientific topics and feature tutorials, demos and hands-on activities.
"We look for presenters who will relate the topic in a way that is accessible to the general public; we try not to bring in people who will give a PhD-level talk," said Dr. Joseph Schmidt, UT associate professor of chemistry and program co-organizer.
"Our attendees range anywhere from middle school, high school, undergrads to retirees, some of whom have been coming for eight consecutive years," Schmidt said. "We get between 100 and 120 people showing up almost every time."
All programs will start at 9:30 a.m. and take place in Wolfe Hall Room 1205 on UT's Main Campus.
Listed by date, topics and speakers are:
• Feb. 21: "Computable Numbers: Algorithms and Complexity From Ancient Iraq to Modern Particle Physics" with Dr. Paul Hewitt, associate professor in the UT Department of Mathematics and Statistics.
• Feb. 28: "Improving Water Quality for Maumee Bay — Restoring Ecosystems for Health and Fun!" with Dr. Daryl Dwyer, associate professor in the UT Department of Environmental Sciences and director of the Stranahan Arboretum.
• March 21: "Natural Polymers From Fungi Used as Glues: Reducing Global Pollution by Plastics and Other Petroleum Derivatives" with Julian Hadley, ecologist and data analyst at Ecovative Design LLC.
• April 18: "Exoplanets: The Discovery of Alien Worlds and Habitable Planets" with Dr. Steve Howell, project scientist for the NASA Kepler Mission at NASA Ames Research Center.
• May 2: "Animals Conservation in a Modern Age: Presented With Animal Ambassadors" with Steve Oswanski, children's zoo manager at the Toledo Zoo.
"Our goal is to invite presenters from a variety of fields so that we have fresh topics every year," said Dr. John Bellizzi, UT associate professor of chemistry and program co-organizer.
"One of our most popular guests is zookeeper Steve Oswanski from the Toledo Zoo; he will be returning this year, and he always brings several of his animal friends," Bellizzi said. "It's been an opportunity for people, especially kids, to get up close and personal with animals that they may have never seen before."
A light breakfast prior to the program will be provided.
Free parking is available in area 13 and the west parking ramp.
For more information, visit the Saturday Morning Science Facebook page at facebook.com/SaturdayMorningScience.