ROTC cadets to compete for German Armed Forces Award
---
It was 0'dark 30 — military jargon for the early morning time before sunrise — and each cadet was equipped with a rucksack weighing at least 33 pounds. Dressed in their Army combat uniforms, some wearing several layers of cold weather gear, The University of Toledo Army ROTC cadets marched in a column of two.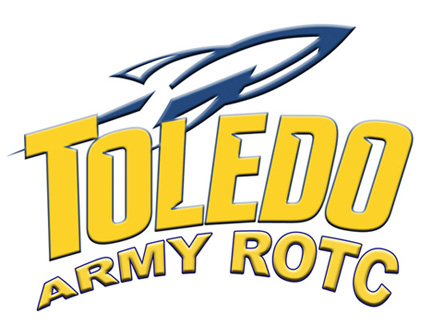 Two miles out and two miles back along the bike trail that runs through campus, the formation came to a halt in front of the ROTC building with 51 minutes on the stopwatch.
Unlike their normal morning physical training sessions, this small corps of cadets was testing its endurance for an upcoming opportunity to earn the German Armed Forces Proficiency Badge.
Officially known as "Das Abzeichen fur Leistungen im Truppendiest," the award was established in 1980 by the Bundeswehr — the German Armed Forces — to recognize military proficiency. It is awarded to all German soldiers and is one of the few foreign awards U.S. service members are authorized to wear.
"To me, it's not just a physical challenge, but there's also the mental aspect of fighting fatigue, injuries or low morale, and those are the kind of challenges that I live for," said Cadet Samuel R. Wineland, a student in the College of Engineering's Science in Information Technology Program. "Joining the [Army] National Guard and ROTC has given me goals to work for, and wanting to be an Army officer has turned into my No. 1 goal."
When the group travels to Camp Atterbury in Indiana, Friday through Sunday, Feb. 22-24, the cadets will individually compete in a series of events to determine the level of the badge: gold, silver or bronze.
In the rucksack-march category, 7.5 miles within 120 minutes will help earn the top award, 5.6 miles in 90 minutes for the silver and 3.6 miles in 60 minutes for the bronze.
Other timed events include a 200-meter swim, sprint and distant run. Participants also must compete in the long jump or high jump, as well as the shot put, stone throw or softball throw (for female participants). Each participant must pass all required events to be awarded the badge and the certificate.
While the sport disciplines and first aid test are pass-or-fail events, the pistol qualification also determines the level of award. Provided with five 9mm rounds, participants try for five hits across three targets to earn gold, four for silver and three for bronze.
"We've been working five days a week since the beginning of the semester to prepare for this competition, and I am very proud of the effort that these young men have displayed," said Capt. Taylor Jones III, assistant professor of military science. "I am confident that these future Army officers will represent the University well, and each of them will earn the right to wear this coveted foreign award."