UT, Lourdes University holding international art contest
---
This spring, The University of Toledo and Lourdes University will present the Fourth National Restorative Justice Conference at the UT Medical Center Hotel Wednesday through Friday, June 19-21.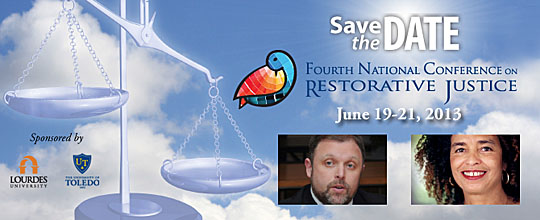 Nearly 500 leading international academics, practitioners and activists in the fields of restorative and racial justice are expected to come together to focus on "Keeping It Real — Race and Restorative Justice."
A new component of the national conference is the "Justice Through Our Eyes" art program. Designed to capture the essence and soul of justice in its truest form through the eyes of our youth, the program is calling for students from kindergarten through higher education to create a work of art that answers the question: "What does justice mean to me?"
Entries will be accepted through Friday, March 15. Students may create the artwork using the medium of their choice and can upload jpegs or gifs of the artwork at lourdes.edu/restorativejustice.
There is no fee to enter, and students from around the world may enter as many times as they wish.
All artists' submissions will be included in the 2013 Fourth National Restorative Justice Conference program. One winning entry from each category — kindergarten to eighth grade and high school to higher education — will be chosen by a panel of art and social justice professionals.
The two winning students will receive $500 Visa gift cards that can be used for art supplies, and each will be acknowledged during the conference's opening session. The winning entries also will be posted at restorativejusticenow.org and appear on billboards in and around the Toledo area courtesy of Lamar Advertising Co.
"We are excited to add this component to the national conference and look forward to viewing and sharing the views of our youth as expressed through their artwork," said Dr. Morris Jenkins, co-chair of the conference and professor and chair of the UT Department of Criminal Justice and Social Work.
For more information on the "Justice Through Our Eyes" art program or the National Restorative Justice Conference, contact Co-Chair Gina Paris, UT instructor of criminal justice and social work and Lourdes University instructor of sociology and justice studies, at 419.277.0568 or restorativejusticetoledo@gmail.com.