UT highlighted in National Journal for role advancing Toledo's alternative energy economy
---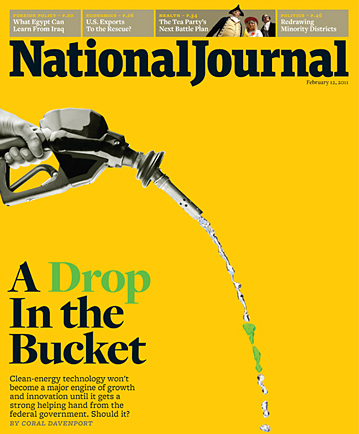 The University of Toledo's work developing the advanced renewable energy economy in the Toledo area was highlighted recently in a national political magazine.
The cover story of the Feb. 12 edition of National Journal focused on the efforts of the federal government to create a market for advanced renewable energy and the policies that would be needed to do so. The story highlighted Toledo as an example of an area that is working to grow the industry.
The article, "Baby steps: Clean energy has yet to reach its potential — and won't, without significant investment from the federal government," begins with a scene from a First Solar manufacturing plant and notes how Toledo is "emerging as the nation's first major solar-manufacturing hub."
Reporter Coral Davenport interviewed several people at The University of Toledo for the article; these included Dr. Frank Calzonetti, vice president for research and economic development, and Diane Miller, director of federal initiatives and associate director of incubation.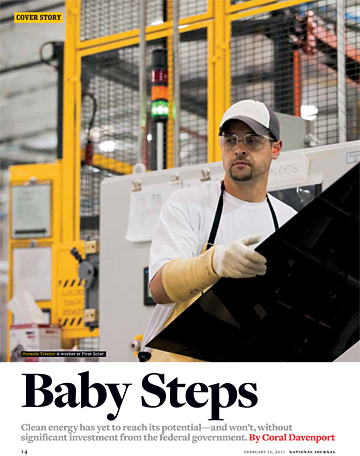 The six-page cover story quoted Megan Reichert-Kral, UT director of incubation, about the UT Clean and Alternative Energy Incubator. The reporter noted the 13 companies currently in the incubator building and the role of the incubator in assisting the businesses to be successful. The article also mentioned the incubator has helped create 240 jobs.
"To be listed as one of the places in the country that is a major hub for this industry, that's very nice. To have them say we're doing a good job, that's nice, too," Reichert-Kral said.
Reichert-Kral's background in the automotive industry was used as an example of the transition in the Toledo area to the industry of the future. Reichert-Kral is quoted in the article, saying, "We tend to think of this as a mature industry. When I look at it with my automotive goggles — we're where the auto industry was in 1910 to 1925 — windshields were optional; there were no airbags."
"I love that Toledo gets good press because I think we get bad press too often," Reichert-Kral said. "Whenever I am promoting the region to someone from California or China or Germany, it is the easiest thing on the planet to sell. We have great transportation infrastructure, great work force, great educational opportunities — so many great things to share."
Representatives from First Solar, Lucas County Commissioner Pete Gerken, and UT Professor and Xunlight co-founder and CEO Dr. Xunming Deng also were quoted in the article.