Rockets secure berth in MAC Semifinals with 73-69 triumph at Central Michigan
---
Toledo won its school-record 25th game and clinched a spot in the conference semifinals with a 73-69 road triumph over Central Michigan Tuesday evening in McGuirk Arena in Mount Pleasant.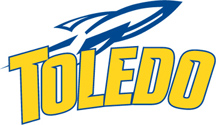 The victory improved the Rockets' record to 25-5 overall and 13-4 in league play, while the Chippewas fell to 10-19 overall and 3-14 in the MAC.
UT's win combined with Buffalo's loss last night at Akron means the Rockets will finish with either the No. 1 or No. 2 seed in the 2014 Mid-American Conference Tournament. Toledo will host Eastern Michigan (18-12, 10-7 MAC) Saturday, March 8, at 2 p.m. looking to gain at least a share of the 2013-14 MAC regular-season title.
Junior forward J.D. Weatherspoon paced the Rockets with 17 points, six rebounds and two blocked shots in 36 minutes. He was 6 of 9 from the field, burying both of his three-point attempts to give him a 62.5 three-point field-goal percentage over his last four contests.
Joining Weatherspoon in double figures were junior guards Justin Drummond and Julius Brown with 13 and 12 points, respectively. Drummond tallied seven of UT's last nine points, including a pair of free throws with 4.8 seconds left, to thwart the Chippewas' comeback bid.
Sophomore guard Chris Fowler paced a balanced CMU attack that saw four players score in double digits with 15 points and six assists.
Toledo outshot the Chippewas by a slim 54.0-51.9 margin and tied its MAC season best with a 47.1 three-point field-goal percentage. The Rockets also hit 8 of 17 three-point attempts in their first meeting with CMU. Senior forward Matt Smith paced UT's three-point barrage with a season-best three treys en route to nine points.
The Rockets started strong by scoring the game's first six points and led by as many as 10 points before settling for a 37-32 advantage at intermission.
Central Michigan took it right to Toledo at the start of the second half as it put together a 10-0 run to take a 45-41 lead with just over 15 minutes remaining. Weatherspoon and Brown hit back-to-back treys to end CMU's spurt, and a 12-2 UT run buoyed by a pair of Smith treys gave the Rockets a 59-51 cushion with 8:27 to play.
CMU climbed back to within 61-57 three minutes later, but Weatherspoon's three-point play helped hold off the hard-charging Chippewas. Drummond followed with another three-point play and a layup to give the Rockets a 69-59 lead with 3:18 left.
That double-digit advantage was short-lived though as sophomore forward John Simons and freshman guard Braylon Rayson buried treys to cut UT's lead to 69-65. Drummond was whistled for a charging foul on the Rockets' next trip up the court, and Fowler had to a chance make it a one-point game but couldn't complete a three-point play with 54.8 ticks on the clock.
CMU was able to get a stop on UT's next possession, but the Rockets forced a Chippewas turnover with 20.2 seconds left. Sophomore center Nathan Boothe was then fouled before Toledo could inbound the ball, and he responded with a pair of free throws to put UT ahead, 71-67.
Simons' putback made it a two-point contest again with 6.6 second left, but Drummond knocked down two free throws to end CMU's hopes of pulling off the upset.